SOMEBODY FIX MY REARVIEW MIRROR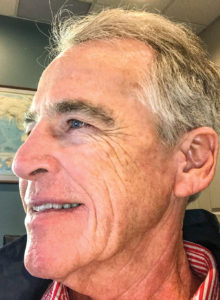 Article by Rich Donnell, Editor-in-Chief, Timber Processing December 2020
The year began with this magazine's announcement of Georgia-Pacific Lumber President Fritz Mason as the annual Person of the Year. We had grand plans to present the award to Mason at the Timber Processing & Energy Expo in Portland, Ore. in late September. It's old news that the show was canceled due to the virus, and instead we mailed Mason a Person of the Year package that contained the award plaque and a cookie with his likeness on it.
Many best laid plans went astray in 2020, most noticeably in the event industry. But other than a couple of months when the nation went into lockdown in late spring, the forest products industry, once it was deemed to be "essential" in the grand scheme of things, picked up the pace and didn't slow down through the remainder of the year. The catapult was six consecutive months (and counting) of increased housing starts, which ultimately topped 1.5 million in October.
With so much virus talk, there's a tendency to forget some of the business that was had in our industry. A glance back through our magazines in 2020 jogged our memory.
—Resolute Forest Products acquired three sawmills in the U.S. South (Cross City, Fla., Glenwood and El Dorado, Ark.) from Conifex Timber.
—Salvage effort following the October 2018 landfall of Hurricane Michael along the Florida Panhandle and southwest Georgia petered out, with officials citing a 10- 16% wood salvage.
—Weyerhaeuser sold 630,000 acres of timberland in Montana to a private firm.
—Forest products companies stepped up big time to implement safety policies at their mills to address the virus, while courageously maintaining operations and employment.
—The sawmill industry's most acclaimed author, Kevin Hancock, CEO of Hancock Lumber in Maine, wrote and had published his second book, "The Seventh Power: One CEO's Journey into the Business of Shared Leadership."
—U.S. housing starts, after soaring at the beginning of the year, sank under the weight of the virus, dipping below 1 million in April.
—Scanning technology company Microtec purchased Lucidyne Technologies.
—Canfor purchased three sawmills in Sweden from Bergs Timber.
—For $61 million, Austria-based Binderholz won the bid for the acquisition of the bankrupt and long-troubled Klausner Lumber One sawmill in Live Oak, Fla.
—Sawmill machinery and technology companies adjusted quickly and efficiently to implement mill project startups via remote.
—FiberPro was formed to build and supply wood yard and lumber handling equipment.
—Wood products mills for the most part sidestepped major damage from Hurricane Laura in late August, but timberlands weren't so fortunate.
—Neiman Enterprises purchased the idle sawmill in Gilchrist, Ore. from Interfor.
—Many forest products companies reported record earnings in the third quarter stemming from record high lumber prices.
—Numbers started coming in, and the loss of timberland from the massive fires in the Western U.S. was staggering.
—F.H. Stoltze Land and Lumber formed an affiliate company to build a CLT plant near Columbia Falls, Mont.
—Tolko Industries and Jasper Lumber announced a partnership at Jasper's existing sawmill operations in Jasper, Ala.
The Westervelt Co. recently announced a change of leadership in the wood products business. Mark Richardson has been promoted to Vice President and General Manager, Wood Products, effective January 1, 2023. He will be promoted into the role currently held by Joe Patton, who recently announced his retirement after a 24 plus year career with the company…
The monthly Timber Processing Industry Newsletter reaches over 4,000 mill owners and supervisors.
Timber Processing is delivered 10 times per year to subscribers who represent sawmill ownership, management and supervisory personnel and corporate executives. Subscriptions are FREE to qualified individuals.
Complete the online form so we can direct you to the appropriate Sales Representative.