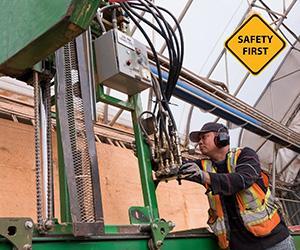 Every year, millions of workers get injured on the job, and a significant number of reported occupational injuries are hand related. But some of the best companies have managed to reduce hand injuries by 50, even 90 percent. How?
read more
In a significant development for the local community, BID Group has collaborated with the Dept. of Labor and Apprenticeship Carolina to launch a groundbreaking apprenticeship program in its Fabrication Shop. The program provides valuable opportunities for aspiring professionals in the manufacturing sector…
read more
Engineered to redefine the limits of bandsaw blades, the all-new Ripper37 Quantum from Dakin-Flathers promises unmatched precision, efficiency, and above all, durability for resawing lumber like never before the manufacturer says, lasting twice as long as the Lenox Woodmaster C…
read more
Bruks Siwertell Group has signed an acquisition contract for North American heavy machinery specialist, West Salem Machinery (WSM), effective July 1, 2023. The Oregon-based engineering and manufacturing company will continue to operate under its current name as a separate internal division within Bruks Siwertell…
read more
Sawmill scanning company JoeScan, founded in 2002, is once again expanding their team with the addition of two new engineers to their roster. "We've seen a tremendous amount of growth in terms of sales," says JoeScan president Joey Nelson. "So we have some additional demand on our engineers to answer support questions. But we also want to continue to develop new…
read more
As leading forklift manufacturer Combilift continues its 25 years in business celebrations with the launch of another new model truck, this time at Ligna, the international timber and woodworking show, held in Hanover. The new Combi-CB70E is a further addition to Combilift's ever growing range of electric models which offers powerful performance, extensive…
read more
Arxada and ICONX Chemicals, in partnership with service provider Zee Water & Energy, announced a new distribution partnership for AntiBlu and Mycostat products in the Eastern half of the U.S. Arxada's antisapstain chemicals, including anti-mold and anti-fungals, brighteners, and defoamers, bring cleaner and brighter wood to the marketplace and protect the value of…
read more
The monthly Timber Processing Industry Newsletter reaches over 4,000 mill owners and supervisors.
Timber Processing is delivered 10 times per year to subscribers who represent sawmill ownership, management and supervisory personnel and corporate executives. Subscriptions are FREE to qualified individuals.
Complete the online form so we can direct you to the appropriate Sales Representative.