Cover: Rex Lumber Saw Shop Has Plenty On Its Plate
DOTHAN, Alabama – Circle sawing performance and filing efficiency at Rex Lumber are benefiting from a central filing room system that services and works up round saws running at multiple machine centers from the company's three sawmills in Graceville and Bristol, Florida, and Troy, Alabama.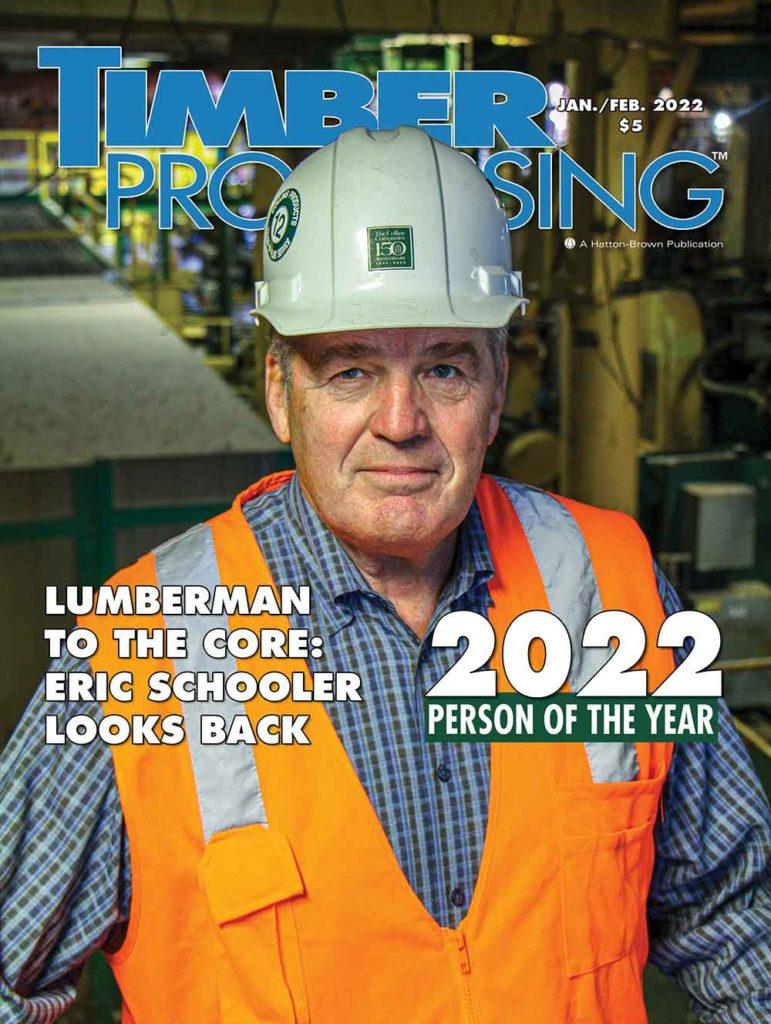 THE ISSUES: Schooler Is Leaving Big Shoes To Fill
We've always considered our 34th Person of the Year, Eric Schooler, as one of the good guys. One reason, rather selfishly on our part, is because during his tenures at Hampton Lumber and Collins Companies, when we called up and asked if he would mind if our magazine editors visited his mills for an article, he usually said something to the effect of, "Come on."
Article by Rich Donnell, Editor-in-Chief, Timber Processing
NEWSfeed
J. Wilson Jones, Jr. Was An Industry Leader
BC Defer Plan Takes Heat
Neiman Names Henson As CEO
Mayr-Melnhof Adds Production
Canfor Purchases Millar Western
Equity Firm Buys Rosboro
Forest Service Proposal Doesn't Cut It
Sweden's Holmen Expands Again
SECOND LOOK: Done Deal
The new Angelina Forest Products SYP 305MMBF sawmill in Lufkin, Texas was the cover story for the July issue. Not long after, West Fraser Timber purchased it from the private investor ownership for $300 million.
NEW GAMEPLAN
SEELEY LAKE, Montana – Labor shortages have affected businesses all over, and the forest products industry is not immune. For instance, to keep pace with increased demand in recent markets, Pyramid Mountain Lumber has made adjustments in direct response to limited labor.
Article by David Abbott, Senior Associate Editor, Timber Processing
MACHINERYrow
Junnikkala Calls Upon Valutec
Blanca Purchases Lucidyne GradeScan
USNR Receives Project Orders
BID Announces In-House Expansion
7Robotics Continues To Build Staff
Con-Vey Launches New Web Site
ATlarge
Jon Potter Heads Structurlam NW
AWC Establishes New Board Leaders
Workers' Comp Group Honors Kennebec Lumber
Sustainable Forestry Initiative Appoints New Officer
PRODUCT SCANNER 10
Versatile Gang
Wheel Loader
Chemical Sensing
2022 PERSON OF THE YEAR
Lumberman To The Core: Eric Schooler Looks Back
Article by Dan Shell, Senior Editor, Timber Processing
WARRENTON, Oregon – Spanning six decades and ongoing, former Collins President and CEO and current Hampton Lumber Chairman of the Board Eric Schooler's remarkable career tracks the development of modern North America sawmilling. Schooler started in the early 1970s in an industry just beginning to embrace widespread automation, with a digital revolution awaiting a decade later. As sawmill technologies and efficiencies developed, Schooler has implemented and applied systems to boost operations and profitability and seen the benefits of doing so.
However, it's the melding of technological prowess with insightful operations and people management – within the context of organizational goals and objectives pursued among capital concerns and market conditions – that sets Schooler apart. What's remarkable is his success at the two companies that have largely defined his career: 20 years as President and CEO of Collins until he stepped down a year ago, and two stints with Hampton Lumber as VP of Manufacturing prior to Collins and the ongoing role as Hampton Lumber's board chairman.
Showing such innovative and successful leadership at both organizations and contributing to the lumber industry throughout his career is why Schooler is the 2022 Timber Processing Person of the Year. He's Timber Processing's 34th award winner, and it's enlightening to hear what representatives from both companies have to say about him.
Timber Processing magazine is delivered 10 times per year to subscribers, who represent sawmill ownership, management and supervisory personnel and corporate executives.
The monthly Timber Processing Industry Newsletter reaches over 4,000 mill owners and supervisors.
Timber Processing is delivered 10 times per year to subscribers who represent sawmill ownership, management and supervisory personnel and corporate executives. Subscriptions are FREE to qualified individuals.
Complete the online form so we can direct you to the appropriate Sales Representative.