Schooler Is Leaving Big Shoes To Fill
Article by Rich Donnell,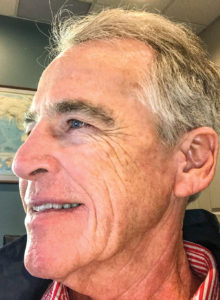 Editor-in-Chief, Timber Processing January/February 2022
We've always considered our 34th Person of the Year, Eric Schooler, as one of the good guys. One reason, rather selfishly on our part, is because during his tenures at Hampton Lumber and Collins Companies, when we called up and asked if he would mind if our magazine editors visited his mills for an article, he usually said something to the effect of, "Come on."
Another reason is that because every time we heard somebody say something about Schooler, it was always in the positive. And if you want a third reason, we've always admired Hampton Lumber and Collins Companies, the two companies Schooler spearheaded operations for for most of his sawmilling career. In fact, leadership at both of those companies previously received our Person of the Year award—the late John Hampton and Jim Quinn, who is still in the middle of sawmilling with White Mountain Apache Timber Co.
Okay, if you want a fourth reason, we've always thought it was pretty cool that Schooler was a stud basketball player, high school and college, in the state of Washington.
Naming a Person of the Year is an interesting process. We try to be somewhat balanced geographically from year to year, though it's not always possible. We always receive some nominations, but maybe they're not quite what we're looking for in that particular year. Maybe we already have somebody in mind and we're looking for the right time to present the award to him or her.
We had Schooler in mind for some time, but never found the right time, and it almost bit us in the rear. Fortunately, Fritz Mason, the chief lumberman for Georgia-Pacific, himself a former Person of the Year, informed us last spring that Schooler was retiring as CEO at Collins.
Mason, who also has Northwest lumber industry roots, added: "Eric grew up with sawdust and small towns. He has had a remarkable career spanning 50 years in the sawmilling and the forest products business from coast to coast. He is respected by people at all levels of our industry from people working on the sawmill floor to machinery suppliers to executives and company owners."
Pretty strong stuff, to say the least, our selection committee thought. And then other nominations started rolling in, equally as impressive in their descriptions of Schooler. You can read some of those comments in the article on Schooler that is written by Dan Shell and that begins on page 18. The article truly provides a "Life and Times" depiction.
Schooler has recently retired from Collins, but continues to serve as Chairman of the Board at Hampton Lumber. In other words, he still has some skin in the game so to speak, especially in grooming current leadership there.
Just as we're extremely elated to be able to name Schooler as the 2022 Person of the Year, we're also a little sad knowing his career is winding down. By the way, we will be presenting the award plaque to Schooler during a ceremony at the Timber Processing & Energy Expo this coming September 28-30 at the Portland Exposition Center in Portland, Ore.
Hampton Lumber & Family Forests is pleased to announce the creation of a Hampton Lumber Scholarship endowment for Tillamook Bay Community College (TBCC). The endowment will provide scholarships for students in TBCC's forestry and manufacturing and industrial technology (MIT) programs…
USNR has announced the order of a complete sawmilling system to the Chilean company Foraction Chile. This highly advanced production line is designed to process radiata pine and will be installed at a greenfield site in the Los Rios region, about 800 km south of Santiago…
KDS Windsor, Lumber Drying Technologies, (KDS) and The New York Blower Co. (NYB) have recently announced they are expanding manufacturing operations in Philadelphia, Miss. This joint venture is one of many investments in growth the past few years…
The monthly Timber Processing Industry Newsletter reaches over 4,000 mill owners and supervisors.
Timber Processing is delivered 10 times per year to subscribers who represent sawmill ownership, management and supervisory personnel and corporate executives. Subscriptions are FREE to qualified individuals.
Complete the online form so we can direct you to the appropriate Sales Representative.