2021 Will Go Down As One Busy Year
Article by Rich Donnell,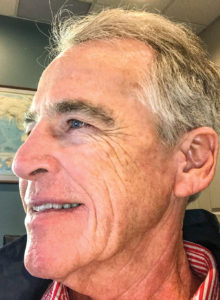 Editor-in-Chief, Timber Processing December 2021
As the year winds down, we once again take a quick look back through it. Needless to say, everything that happened rode on the dark wings of the pandemic.
—Robert Jordan, IV, president & CEO of Jordan Family of Companies, is named Timber Processing's 2021 Person of the Year.
—Biewer Lumber announced plans to build a second greenfield sawmill in Mississippi, this one in Winona.
—Mission Forest Products quietly began construction of its greenfield sawmill in Corinth, Miss.
—Idaho Forest Group began building a greenfield sawmill in Lumberton, Miss.
—Austria's Binderholz purchased through auction the bankrupt Klausner Lumber Two sawmill in Enfield, NC, having already done likewise with Klausner Lumber One sawmill in Live Oak, Fla.
—Interfor purchased the WestRock sawmill in Summerville, SC.
—Hardwood Manufacturers Assn. became one of the first groups to meet inperson at its annual meeting in Austin, Texas.
—A year after the pandemic hit, U.S. softwood and hardwood lumbermen expressed greater optimism about the future of their businesses than they had in years, as lumber prices and housing starts shot through the roof.
—Katerra, the Silicon Valley startup company that wanted to redefine conventional building construction, while starting up a new cross-laminated timber plant in Spokane, Wash., declared Chapter 11 bankruptcy.
—Interfor purchased Georgia-Pacific sawmills at Bay Springs, Miss.; Fayette, Ala.; DeQuincy, La.; and Philomath, Ore.
—Canfor announced plans to build a greenfield sawmill in DeRidder, La.
—Roseburg Forest Products announced it would build a greenfield sawmill in Weldon, NC.
—Carbotech purchased sawmill scanning and optimization supplier Autolog.
—Hunt Forest Products and Tolko Industries announced they would develop a new sawmill near Taylor, La., their second such joint venture following the construction and startup of a sawmill in Urania, La.
—Mercer International purchased through bidding the idled and bankrupt Katerra CLT facility in Spokane, Wash.
—SFPA held a successful machinery and expo in Atlanta in August.
—Sawmill industry patriarch George Varn, Sr., who developed Varn Wood Products in Hoboken, Ga., died at 100.
—West Fraser Timber acquired the Angelina Forest Products sawmill in Lufkin, Texas, which was a new mill that started up in late 2019.
—GP announced plans to build a new sawmill at its site in Pineland, Texas.
—WKO acquired the SDS Lumber sawmill in Bingen, Wash.
—The Forest Service revealed yet another new strategy for its Four Forests Restoration Initiative program to treat 2.4 million fire-prone acres across four national forests in Arizona.
—Washington-based Northwest Hardwoods, after coming through a bankruptcy restructuring, announced it was moving headquarters to Frisco, Texas.
—One Equity Partners purchased USNR and Wood Fiber Group and promptly merged them.
WWPA is now seeking nominations for its 2024 Master Lumberman honors, to be presented at the WWPA Annual Meeting, April 15, 2024. Master Lumberman is the industry's highest career achievement recognition for lumber manufacturing and quality control employees working in Western sawmills…
The monthly Timber Processing Industry Newsletter reaches over 4,000 mill owners and supervisors.
Timber Processing is delivered 10 times per year to subscribers who represent sawmill ownership, management and supervisory personnel and corporate executives. Subscriptions are FREE to qualified individuals.
Complete the online form so we can direct you to the appropriate Sales Representative.