Industry Patriarch Varn Passes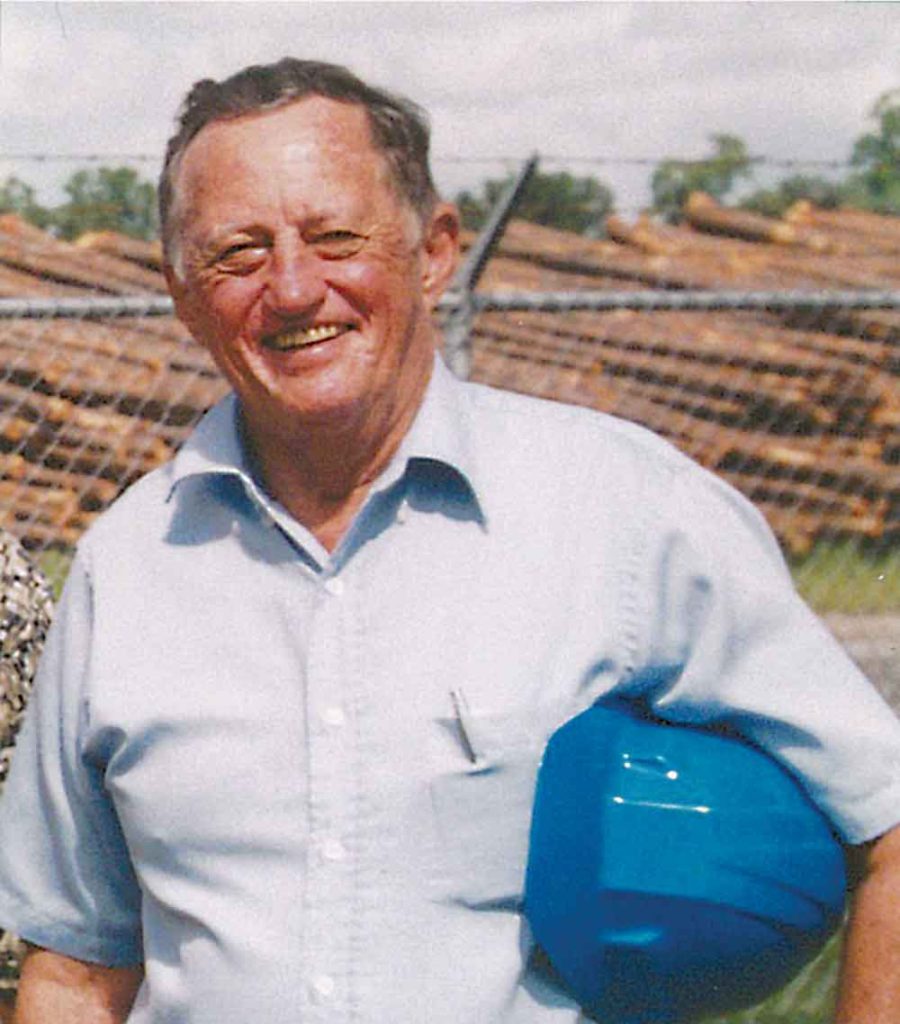 George W. Varn, Sr., who broke into the family turpentine business following World War II, and then along with a cousin built a chip mill and a sawmill in the late 1960s in Hoboken, Ga., called Varn Wood Products, and who became one of the patriarchs of the southern pine lumber industry, died September 4 in St. Vincent's Hospital in Jacksonville, Fla., the same hospital in which he was born December 1, 1920. He was 100, fast approaching 101.
He lived a varied and accomplished life, and his verve and charm will be missed by all who knew him.
For 40 years, Varn regularly expanded and upgraded the sawmill, personally engineering and overseeing equipment installation with exquisite detail. "I remember hours spent with him using concentric circles on the drawing board to determine the best CNS infeed position," his son, George Varn, Jr., recalls. "He increased production from 10 million board feet per year to 50. Dad was innovative in the use of PLCs, writing extensive ladder diagram programs."
Varn was a familiar and most welcomed sight at the SFPA lumber machinery expo, rapidly walking the floor in his trademark seersucker jacket. Newer equipment reps were often warned by older hands about answering Varn's questions, saying, "He already knows the answer, he just wants to see how you'll answer it." Varn attended his last SFPA Expo in 2019. He was active to the end, walking one to two hours most days.
Varn graduated from Bolles School in Jacksonville as Valedictorian in 1938 and graduated from Harvard University with a degree in agriculture economics and as a member of the Phi Beta Kappa Society in 1942.
During World War II, he served in Naval Intelligence, spending his entire stay deciphering the Japanese War Department code, while stationed in DC, Pearl Harbor and Guam. Varn once commented, "I was a small part of a spectacularly successful Navy operation."
While being mustered out of the Navy in Charleston, SC, Varn fell for Betty Van Dyke, a Naval Waves Ensign and journalist. They were married in 1946 and remained so for 65 years until her death in 2011.
Varn's grandfather, George, and great uncle, K.S. from the Baxley/Hazlehurst area, had long worked in the turpentine business and in the 1940s built a central processing plant in Hoboken. Varn's father, Lester, on the other hand had sidestepped the turpentine business and had an automobile business as a young man, and later started one of the first independent automobile financing businesses in Florida and spent most of his career in that business.
After his military service, George joined the family business in turpentine brokerage, before teaming with a cousin, Jacob Varn, to form Pine Gum Production Corp.
When the Naval Stores industry declined in the mid 1960s, George and Jacob became pulpwood dealers as Varn Timber Co. and established a large pulpwood wood yard in Waycross. They then worked a deal with Container Corp. to build a chip mill at Hoboken and supply chips to the Container mill in Fernandina Beach. The chip mill started up in 1968 and then the Varns started up a sawmill to process the graded out sawlogs. "We didn't know anything about sawmills," Varn recalled.
The sawmill remained a consistent chips and lumber producer with the emphasis on chips. "From the beginning we fashioned a mill that would work with paper mills," Varn said.
Varn said his family members, especially his great uncle, K.S., were conservationists before the word was even used, owning timberland in the Folkston and Valdosta areas, some of it dating back 185 years. "We take considerable pride in that," Varn once said. "You can't own land that long without taking care of it."
Timber Processing magazine first visited and published an article on Varn Wood Products in June 1979, following a modernization at the Chip-N-Saw mill. The magazine visited again September 2005, following the installation of a Cone Machinery small log processor, and again in November 2019 upon a mill wide renovation including the startup of a Cone canter and profiler line.
Varn was an active and long-time SLMA Board Member and chaired its Production & Management Issues and Computer committees.
His philanthropic efforts were significant. He chaired the Bolles Board of Directors from 1977 to 1980 and chaired the Museum of Science & History Board during the construction of the new museum on the Southbank Riverwalk in Jacksonville in 1969. He spent 25 years as a director of each of the two organizations.
George and Betty's second greatest passion was traveling, which they enjoyed for 30 years. Their favorites were the Taj Mahal in India under the full moon, ancient Palenque in Mexico at dawn and the Temple of Poseidon at Cape Sounio, Greece at sunset. Their greatest passion was their children. They saw their primary responsibility as teaching their children to think critically and stand on our own two feet.
Varn is survived by his brother, Lester Varn, and his children, Merrill Varn, Ellen Lowman (Don), and George Varn, Jr. (Margo) as well as five grandchildren and three great grandchildren.
George & Betty's ashes were planned to be interred in Oaklawn Cemetery in a private ceremony. No funeral service is planned at this time. In lieu of flowers, friends are urged to donate to a cause of their choosing.
Once asked about his longevity, Varn replied, "I can't tell you. If I knew what it was, I believe I could sell it. I just have approached each day and they have added up. I just kept going."
Corvallis, Ore.-based Lucidyne Technologies, which was purchased in 2020 by Microtec, is now named Microtec Corvallis as Microtec finalizes its branding integration plans. Last year, following its acquisitions of Finscan and Woodeye, Microtec rebranded Finscan as Microtec Espoo and Woodeye as…
The monthly Timber Processing Industry Newsletter reaches over 4,000 mill owners and supervisors.
Timber Processing is delivered 10 times per year to subscribers who represent sawmill ownership, management and supervisory personnel and corporate executives. Subscriptions are FREE to qualified individuals.
Complete the online form so we can direct you to the appropriate Sales Representative.