THEY LEFT BEHIND LASTING IMPRESSIONS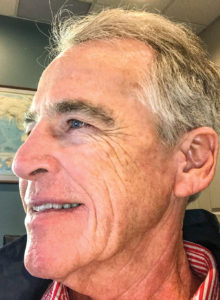 Article by Rich Donnell, Editor-in-Chief, Timber Processing November 2020
Our fine team at Hatton-Brown Publishers is responsible for producing six trade magazines, one of which is Timber Processing. Those six magazines translate into 46 issues per year, so you can see we're basically on a magazine-per-week schedule. My point is not to boast about the amount of work we do, but rather that in the never-ending haste to put another magazine out the door (as we say in the business), we sometimes lose sight of the forest for the trees.
The accumulation of editorial material to fill a magazine is always a lively challenge, and "always" comes down to the wire, and only when glancing one last time through this issue of Timber Processing before we uploaded it to the printer did it dawn on me that this issue includes three obituaries on men whose contributions to the wood products industry were important and numerous. Obviously I knew the obituaries were in the magazine because I put them in there and edited and wrote some of the copy, but their collective significance didn't strike me until I stepped back and took a longer look.
John Porter Price, 80; Harold (Red Thomas), 94; and Fred (Brud) Horstkotte, Jr., 97, were big-time innovators and contributors.
Price, from Arkansas, started out as a logger and a lumberman, and then invented the rotary drum debarker to enhance his sawlog and chips production. It turned out so well, and drew so much interest, that he formed a company for the purpose of fabricating and supplying drum debarkers and chip mill technologies. Then he had the foresight to see that paper companies would prefer to contract out their chips production, so he formed another company that ran independent chip mills for that purpose, and became probably the largest producer of chips in the world.
I'm sure you've heard of RedBuilt, the company that produces and distributes various engineered wood products. The "Red" in RedBuilt is for Red Thomas. Thomas, from Idaho, started out selling lumber and then came upon an open web truss product created by architect Art Troutner. Thomas convinced Troutner this was something special and they teamed up to form Trus Joist with Thomas as the promoter of what became a string of products such as I-joists and laminated veneer lumber. Ultimately down the winding road, RedBuilt was formed when some of the Trus Joist crowd, including Thomas, bought back from Weyerhaeuser the Trus Joist business Weyerhaeuser had purchased from them.
Fred Horstkotte, Jr., from Oregon, known to many as Brud, put his design and engineering signature on many a Western sawmill, as did his father and namesake before him. They also had several patents on various sawmill technologies. In fact the Oregon Historical Society Research Library contains thousands of architectural drawings, photograph albums, and records relating to their designs and construction of lumber mills from 1915-2000.
Interestingly, all three of these men were quite skilled at their respective hobbies: Price, duck hunting; Thomas, piloting airplanes; and Horstkotte, snow skiing.
"The highest tribute to the dead is not grief but gratitude." —Thornton Wilder
Terry Brown and the Lumber Quality Institute will again offer two lumber quality-related workshops in Salem, Ore. for the sawmill industry in November 2023. The Lumber Quality and Process Control Workshop will be held November 6-7, and the Lumber Quality Leadership Workshop will be held November 8-9…
The monthly Timber Processing Industry Newsletter reaches over 4,000 mill owners and supervisors.
Timber Processing is delivered 10 times per year to subscribers who represent sawmill ownership, management and supervisory personnel and corporate executives. Subscriptions are FREE to qualified individuals.
Complete the online form so we can direct you to the appropriate Sales Representative.