Cover: Vaagen Bros. Goes All In On Lean
COLVILLE, Washington – Duane Vaagen says that over his decades in the lumber business, he's heard the same thing over and over. It's a chorus really, when he tours people through his mill: "That won't work." He says over the years as his family business has tried different things and pushed things past their specs and really their life expectancy, it's always the same. "That's not going to work like that."
Article by Jessica Johnson, Senior Associate Editor, Timber Processing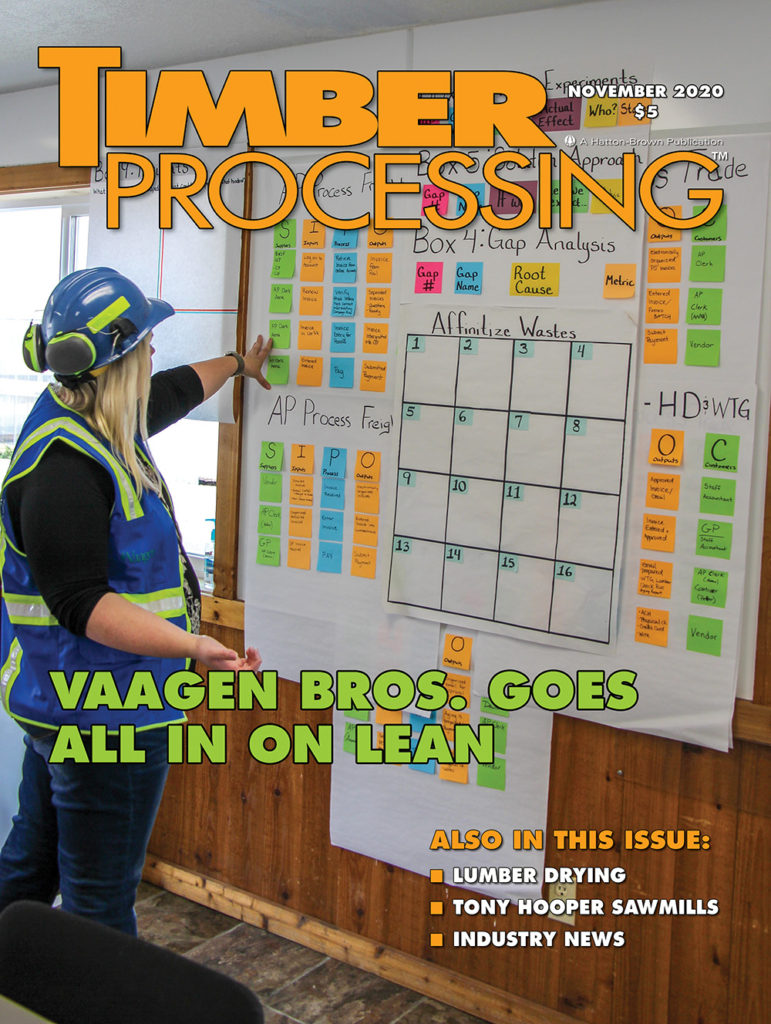 The Issues: They Left Behind Lasting Impressions
The accumulation of editorial material to fill a magazine is always a lively challenge, and "always" comes down to the wire, and only when glancing one last time through this issue of Timber Processing before we uploaded it to the printer did it dawn on me that this issue includes three obituaries on men whose contributions to the wood products industry were important and numerous. Obviously I knew the obituaries were in the magazine because I put them in there and edited and wrote some of the copy, but their collective significance didn't strike me until I stepped back and took a longer look.
Article by Rich Donnell, Editor-in-Chief, Timber Processing
NEWSfeed
Harold Eugene (Red) Thomas Dies At 94
Neiman Purchases Gilchrist Mill
Vicksburg Mill Continues Growth
From Woods To Mills
TOONE, Tennessee – The Hooper family and kin are renowned in the Tennessee Valley region for being a friend in each step of the wood harvesting and sawmilling process. Their portable sawmill tradition began almost a century ago with Malcolm Hooper, father of Tony Hooper, 64, owner of Tony Hooper Sawmills, inc., hauling logs in an old pickup truck to his all-manual groundhog diesel sawmill.
Article by Patrick Dunning, Associate Editor, Timber Processing
Dry Kilns
EDITOR'S NOTE: The following companies supplied editorial profiles and images to complement their advertisements in the Timber Processing November 2020 issue.
American Wood Dryers
A.W. Stiles Contractors
BID Group
Brunner Hildebrand
Lignomat
McConnell Industries
MEC Dry Kiln
Mühlböck
Nyle Dry Kilns
Smithco
Ultra Air Systems
USNR
Valutec
Wood-Mizer
PART 2: Kiln Drying – Ultimate Guide To Moisture Control
Controlling moisture is key to producing a quality end product. Ironically, despite being where moisture is altered the most, kilns are also often the most overlooked.
Article supplied by Finna Sensors and written by Steve Maurer, an industrial copywriter. Next issue: Part 3: Planermill
MACHINERYrow
USNR Announces Several Orders
Stiles Will Support Minda North America
Delta Signs On tsb-bescom
Norra Timber Increases Drying Capacity
ATlarge
Fredrick William (Brud) Horstkotte Left Imprint On Mills
Adel Moves Ahead With Pellet Mill
HOMAG Focuses On Mass Timber
Dadeville Pole Announces Facility
NHLA Names New President
President's Export Council Appoints Dane
Vaagen Bros. Goes All In On Lean
Article by Jessica Johnson, Senior Associate Editor, Timber Processing
COLVILLE, Washington – Duane Vaagen says that over his decades in the lumber business, he's heard the same thing over and over. It's a chorus really, when he tours people through his mill: "That won't work." He says over the years as his family business has tried different things and pushed things past their specs and really their life expectancy, it's always the same. "That's not going to work like that."
And yet Vaagen always finds a way to not only make it work, but make it great. For over four generations, Vaagen Bros. Lumber has produced dimensional lumber to the tune today of 175MMBF in the town of Colville, Washington, the last "big" small town in the U.S. before the Canadian border in eastern Washington.
Vaagen says first it was in the 1970s when they installed a lumber sorter from a Southern engineering and manufacturing firm that he heard the speculation that he wasn't going to get his chosen technology to work. In late 2020, that lumber sorter is still going. "I learned to just agree, because they are probably right. I just don't know if it's going to work in 30 years or 80 years," Vaagen laughs.
As Vaagen's daughter, Emily Baker, serving as the family business as Lean Team Leader, is quick to point out, "We might get frustrated with some of our vintage machinery, but its fed families. It's worked, and worked hard. We appreciate that."
Timber Processing magazine is delivered 10 times per year to subscribers, who represent sawmill ownership, management and supervisory personnel and corporate executives.
The monthly Timber Processing Industry Newsletter reaches over 4,000 mill owners and supervisors.
Timber Processing is delivered 10 times per year to subscribers who represent sawmill ownership, management and supervisory personnel and corporate executives. Subscriptions are FREE to qualified individuals.
Complete the online form so we can direct you to the appropriate Sales Representative.