Family Matters To Fritz Mason
Article by Jessica Johnson, Senior Associate Editor, Timber Processing January/February 2020
It's time for the 32nd annual announcement of the Timber Processing Person of the Year—a time that always excites me. I am a bit of a person of the year specialist, having written my first profile on Jill Snider Brewer in 2016 and then going on to write four of the last five person of the year profiles. I really enjoy these because they naturally lend themselves to being a little more personal in nature.
It's a chance to look beyond the shiny new steel and see the man (or woman!) who is driving the whole thing forward. Seeing what makes them tick. Diving into their involvement in various industry organizations sure, but also leadership with their children's horse barn, like Snider Brewer, or their passion for hunting, like 2017 winner Tim Biewer and this year's recipient, Fritz Mason.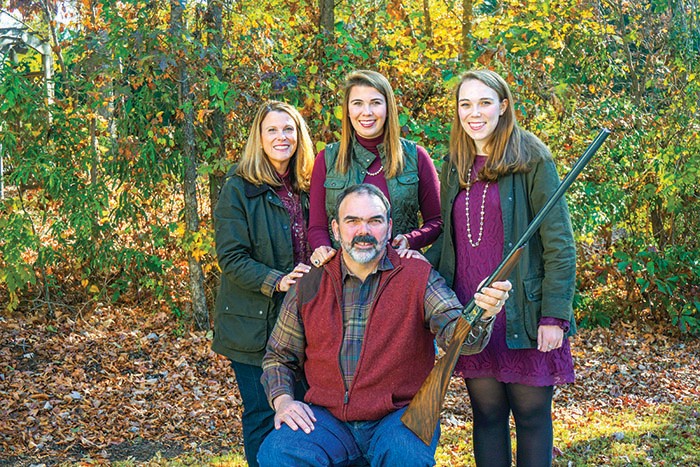 There's something incredibly humanizing about looking at an industry leader we've all known from afar in a photo that shows what his real pride and joy is—Linda, Hannah and Sadie Mason. It brings a seemingly larger-than-life person down to Earth. Mason gave a most thorough person of the year interview, and during that period I spent in the GP conference room in Atlanta right before Christmas I found myself in awe of the simple but insightful ways he tackled big industry hot topics. But, in the first five minutes of the meeting, he showed me a video from his laptop, and the background caught my eye. It was a photo of his great-grandfather taken around 1945 in front of the sawmill his grandfather managed near Etna, Calif.
It was in those first five minutes that I realized this lumber industry leader at the very top of a skyscraper in the heart of the U.S. South was just a man. As we talked he'd sprinkle in bits about his girls. How his wife didn't want to leave Alabama after Hampton sold its Southern mills, because their oldest had started kindergarten and the family had really found a wonderful community within Tuscaloosa. Or when Mason talked about how both daughters were University of Georgia grads, Sadie having also graduated from medical school and currently in pediatric residency, while Hannah was getting a combination advanced degree in science hoping to study and cure big diseases like Parkinson's. After telling me about them he almost sheepishly asked if he could send in a picture of them.
A very important person, my grandmother, used to repeat a quote from Saint Theresa of Calcutta to us: "If you want to change the whole world, go home and love your family." Our 32nd annual Timber Processing Person of the Year, Fritz R. Mason, is certainly at the forefront of changing the wood products business, but at the center of it all, he loves his family.
RELATED ARTICLES
The outpouring of support for Vaagen Fibre Canada's Midway, BC sawmill, upon the early January Vaagen family announcement of the mill's impending closure, was substantial, but apparently hasn't changed the disappointing outcome, at least for now. The Vaagen family, whose Vaagen Brothers Lumber headquarters and sawmill is in Colville, Wash., announced on…
The monthly Timber Processing Industry Newsletter reaches over 4,000 mill owners and supervisors.
Timber Processing is delivered 10 times per year to subscribers who represent sawmill ownership, management and supervisory personnel and corporate executives. Subscriptions are FREE to qualified individuals.
Complete the online form so we can direct you to the appropriate Sales Representative.