Lucidyne Transverse Scanner
Microtec's recent acquisition of Lucidyne creates a significant global lumber scanning portfolio. Microtec has demonstrated success across a range of scanning solutions and Lucidyne's GradeScan is a gold standard for lineal scanning.
Lucidyne now offers a transverse scanning solution to North America, using Microtec's scanning technology and Lucidyne's deep learning software platform. Using the Goldeneye 900 series at its core, the new Lucidyne 900 will deliver unparalleled grading solutions to transverse applications in planer mills, sawmill and stud mills.
The Lucidyne 900 will be sold, installed and maintained from Lucidyne's U.S. headquarters in Corvallis, Ore.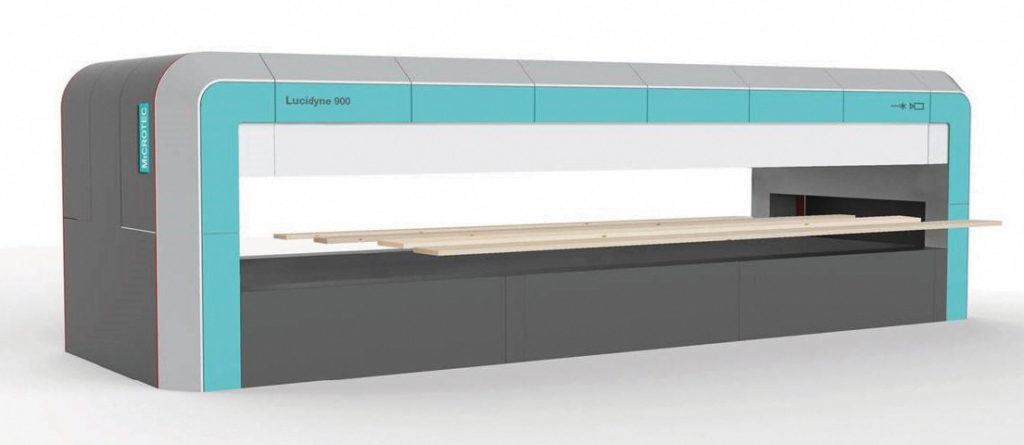 As the Microtec and Lucidyne teams continue to combine their technologies, additional Microtec scanners will be added to the Lucidyne product line.
Frank Jost, CEO of Microtec, states, "Together we will continue to invest in R&D to develop and implement leading edge scanning solutions for the North American market."
Visit lucidyne.com.
RELATED ARTICLES
Microtec Announces Branding Strategy
Lucidyne Adds Trammel To Sales Team
Microtec Purchases Lucidyne Technologies
Softwood lumber is one of the three largest construction input cost reductions year-over-year from December 2021 to December 2022, according to a recent ConstructionDive market report. Citing Producer Price Index data from December 2022, the report noted that overall…
The Red Rock Biofuels project in southern Oregon appears headed for foreclosure according to notices published in the Lake County Examiner newspaper in late December after the company failed to make principal and interest payments on some $300 million in debt. The notice set a February 4 payment…
Opticom Technologies, a leader in industrial video monitoring solutions, is celebrating 50 years in business. The company, founded in 1973, has evolved to continue offering innovative products as video monitoring technology has advanced. "It's unique for a video monitoring company to have 50 years of history under its belt," comments Opticom Global…
The monthly Timber Processing Industry Newsletter reaches over 4,000 mill owners and supervisors.
Timber Processing is delivered 10 times per year to subscribers who represent sawmill ownership, management and supervisory personnel and corporate executives. Subscriptions are FREE to qualified individuals.
Complete the online form so we can direct you to the appropriate Sales Representative.