Cover: 2021 Person Of The Year
Robert B. Jordan, IV, president and CEO of the Jordan Family of Companies, is the 2021 Timber Processing Person of the Year, 14 years after his father, Bob Jordan, received the annual award, now in its 33RD year.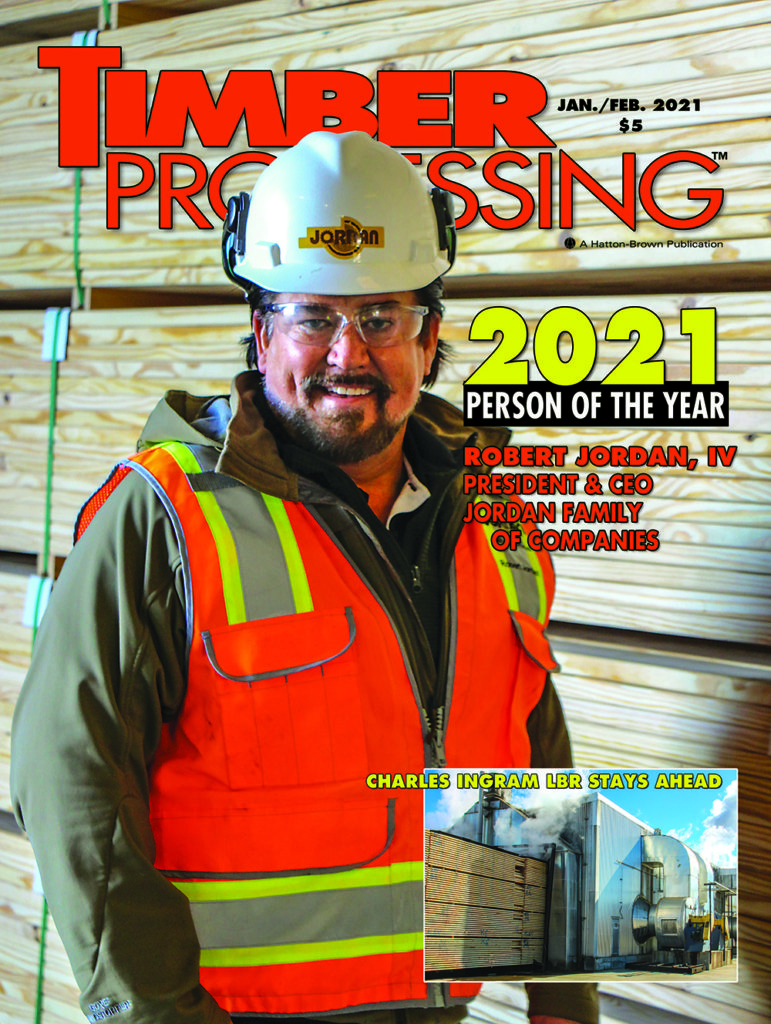 The Issues: Focus On The Family
The irony is not lost on me that here we are, in the beginning of the year, with another dynamic (and incredibly deserving) industry titan gracing the cover of this magazine as our Person of the Year, and I am once again about to start, as my kids would call it, blathering about his family. But here I go: I am going to blather about his family.
Article by Jessica Johnson, Senior Associate Editor, Timber Processing
NEWSfeed
Biewer Plans Second SYP Greenfield Mill
Mission Forest Products Mill Places Order
Sawmill Finds New Home
Arizona Tries To Find Footing
Idaho Forest Looks South
Jasper-Tolko Will Triple Output
Austria's Binderholz Wins Auction Again
Hankins Lumber Plans Timbers Sawmill
Two Conferences Announce Dates (LINK to PELICE and BIO)
New Relief Act Includes Loggers
CEOs Address Climate Change
USFA Sold 3.2 Billion BF
UFP Industries Buys PalletOne
Bamboo Mill Gains Steam
West Fraser Buys Norbord
American Wood Council Elects Brodie As Chair
Better Drying
EFFINGHAM, South Carolina – About 15 years ago, Andy Pollard of Pollard Lumber, Appling, Georgia, gained a patent for a dual path continuous dry kiln where parallel charges of lumber are conveyed in opposite directions so that the dry lumber going out preheats and conditions the green lumber going in, and the green lumber gives off moisture that conditions the dry lumber as the two lines pass one another (a technology for which Pollard in subsequent years gained improvement patents, while starting up a kiln of his own and licensing the technology to others). Now, Charles Ingram Lumber has taken the technology and tweaked it into another patent for what it calls the NOREV DPK (dual path kiln).
Article by Patrick Dunning, Associate Editor, Timber Processing
Marks' Forest Health Role
CLANCY, Montana – Located just south of Helena, Marks Lumber may be small compared to high production mills, but owner Steve Marks is looking to make a significant impact on the region and overall industry by highlighting the integral role the industry plays in maintaining healthy forests, ecosystems and rural economies.
Article by Dan Shell, Senior Editor, Timber Processing
PART 4: The Sawmill – Ultimate Guide To Moisture Control
Before reaching the kiln, the sawmill provides the first opportunity in lumber processing to recognize benefit from today's advanced moisture sensing technologies.
Article supplied by Finna Sensors and written by Stuart Harries for Finna
MACHINERYrow
Gordon Started Up Valon Kone U.S.
Tschopp Orders USNR Saw Line
Rambler Wood Products Plans New Mill Operation
HS Timber Group Will Build Sawmill
F.S. Stoltze Chooses Lucidyne GradeScan
Collums Lumber Is Upgrading Log Line with ELI
ATlarge
Ben Crim Retires From Hood Industries
Russ Taylor Forms Consulting Firm
Hood Names Newbill As Director – EHS
Seneca Paid Off PPP Loan
Collins Leads Carbon Project
IKEA Partner Buys More Timberland
Dippel Retires From Seneca
PRODUCT SCANNER 10
Shape-Up Pro
Forklifts Series
Growing Wisdom
Article by Jessica Johnson, Senior Associate Editor, Timber Processing
MT. GILEAD, North Carolina – Fifty-nine year old Robert Jordan, IV has been around his family's sawmill business his whole life. Started by his grandfather in 1939, then run by his father and uncle, and now run by himself – sawmilling is what he knows. It comes as natural to him as breathing, and without his family's sawmills, one in Mt. Gilead, North Carolina and one in Barnesville, Georgia that combine to produce 500MMBF of SYP annually, he says he would be lost.
Sure, Jordan Lumber and Supply, Inc. could yield a bucketful of money for the Jordan family by selling out, and he admits to having received some flattering offers over the years. But Jordan says the core business, the Mt. Gilead sawmill, will not be for sale during his lifetime.
"My father convinced me that we can help more people over time by staying our course," he emphasizes. "I am delighted to have great faith in the fourth generation, some of whom are already proving they can be trustworthy and innovative leaders. So basically, we have no need to sell and I also need something to do."
And that's just whom Jordan is. He's a straight shooter who embraces innovative leadership within his family, has great faith in his sons, Wes, Vince and Landon, and also son-in-law Gil Shaw, and perhaps most importantly realizes the impact his family's business has on the community at large. Something, Jordan learned from his father.
Timber Processing magazine is delivered 10 times per year to subscribers, who represent sawmill ownership, management and supervisory personnel and corporate executives.
The monthly Timber Processing Industry Newsletter reaches over 4,000 mill owners and supervisors.
Timber Processing is delivered 10 times per year to subscribers who represent sawmill ownership, management and supervisory personnel and corporate executives. Subscriptions are FREE to qualified individuals.
Complete the online form so we can direct you to the appropriate Sales Representative.