You Can't Miss Big Number 44
Article by Rich Donnell,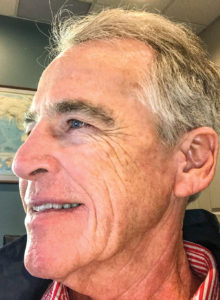 Editor-in-Chief, Timber Processing August 2022
You'll notice on the cover of Timber Processing August 2022 that this issue represents the 44th Annual Lumbermen's Buying Guide. I knew we were putting another Buying Guide together but it didn't really make its presence felt until I saw the number 44 on the cover proof before it went to press. I've always been impressed by the number 44, mostly from an athletics standpoint. If you're an old baseball fan, you'll recall that Hank Aaron wore number 44, so did Willie McCovey of the Giants and Reggie Jackson of the Yankees. The great basketball player, Pete Maravich, also wore 44 and today it hangs from the rafters of the Atlanta Hawks arena. Heck, even the character Forrest Gump wore 44 in the movie of the same name when he played for the University of Alabama football team.
But really the significance here is longevity. Our first Buying Guide appeared in the September 1979 issue of Timber Processing. In retrospect it left a lot to be desired, only five pages or so, but it was a first attempt. That was about four years before I came on board.
Let's go back to that issue and look around, as in which equipment companies were advertising in that 1979 issue, and are still advertising in the 2022 issue you have in your hands.
Well, Armstrong and Pacific Saw & Knife were in there—today they're part of Wood Fiber Group, which advertises regularly; Albany International, Irvington- Moore, LSI, Schurman and Moore were in there—now part of USNR, another advertising mainstay, and a couple of them by way of Coe to USNR; Brunette Machine; Fulghum; and Mellott Manufacturing. I may have missed somebody. Some companies who did advertise in that issue who still advertise with us but not in this current issue include the likes of Con-Vey, Corley, Mc- Donough, Salem, Taylor and West Salem.
So what was going on in the sawmill industry in September 1979? Owens-Illinois planned to build a sawmill in Lake Butler, Fla.; raging fires had broken out in the Northwest (no shocker); the Carter Administration was unleashing the national forest environmental program called RARE, which would take a lot of timber out of commission; Albany International offered a new precision ballscrew carriage; Cornell revealed a new double arbor resaw; Ken King was named East Coast product specialist/automation division at Kockums Industries; Weyerhaeuser and Kirby Forest Industries started up Black Clawson slant disc chippers at a couple of their southern pine sawmills.
It was also in that September 1979 issue that we announced the death of Hartwell Hatton. The former newspaperman who founded our company in 1948, and then started Alabama Lumberman magazine had died on July 20 at age 81. The wordsmith had sold his company to employees in 1971.
Today's issue includes nearly 30 pages of Buying Guide, a far cry from 1979, and a special thanks goes to Circulation Director Rhonda Thomas who has been the lead rider on our Buying Guide herd for many years.
Every year, millions of workers get injured on the job, and a significant number of reported occupational injuries are hand related. But some of the best companies have managed to reduce hand injuries by 50, even 90 percent. How?
The monthly Timber Processing Industry Newsletter reaches over 4,000 mill owners and supervisors.
Timber Processing is delivered 10 times per year to subscribers who represent sawmill ownership, management and supervisory personnel and corporate executives. Subscriptions are FREE to qualified individuals.
Complete the online form so we can direct you to the appropriate Sales Representative.