Article by Rich Donnell
Editor-in-Chief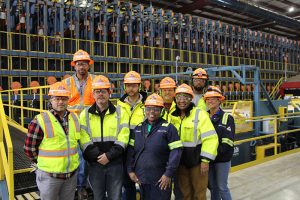 During my recent visit to Georgia-Pacific's newly started up sawmill in Talladega, Ala., and during my discussions there about the fact that GP is building two additional sawmills (in Georgia) this year, the words that kept coming to mind like the beating of drums were: Supply-Demand, Supply-Demand, Supply-Demand.
GP alone will have added new southern pine lumber production capacity of about 900MMBF come 2020, and I don't have to tell you about all of the other lumber production projects in the works in North America, and especially in the Southern U.S.
In fact as I departed Talladega that day I couldn't help but worry that GP and some of these other companies might be over-extending themselves, even though GP officials had just assured me that they see demand outpacing supply for some extended period of time. My concern stemmed from the notion that U.S. housing starts seem to be stuck in the 1.25 million range. But who am I to second-guess the Koch brothers anyway?
Coincidentally, after I returned to the office, I received an article from veteran forest products industry prognosticator Henry Spelter. The article appears in this issue on pages 38-39. It's about annual increases in lumber production capacity versus annual increases in lumber demand in North America. Spelter forecasts that new lumber supply will have outpaced new lumber demand when 2018 is all accounted for, and that in 2019 the increase in new lumber supply will still out-do the increase in new lumber demand, even more than in 2018.
But like all good novelists, and apparently economists, Spelter saves the best for last—that 2020 will reverse the trend, and the increase in new lumber supply will significantly lag the increase in new lumber demand by perhaps 1.5 billion BF.
Meanwhile during the NAHB International Builders Show held in February in Las Vegas, a report from NAHB Chief Economist Robert Dietz states that in 2020 U.S. single family starts will increase 4% over 2019 to the 928,000 range, the biggest annual increase since 2017; and multifamily housing starts will show a slight increase in 2020 to 384,000 following a decline in 2019. That would put combined new starts in 2020 at 1.31 million and trending upward.
Spelter says the upward ticking will be due to Federal Reserve policy that is moving away from tight monetary policy and increasing interest rates to easier monetary policy and at least maintaining interest rates.
Of course all of these companies that are completing all of these production projects already knew this, but as a journalist burdened with a doubting nature and whose family comes from "show me" Missouri, I always need a little convincing.