SFPA Expo Emerges At The Right Time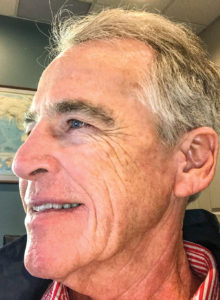 Article by Rich Donnell, Editor-in-Chief, Timber Processing July 2021
As I write this it is June 23, 2021 and we are putting the final touches on this issue, in which is included a preview section featuring some of the exhibitors in the upcoming SFPA Forest Products Machinery Exposition. The event is scheduled to be held August 11-13 at the Georgia World Congress Center in Atlanta.
I say "scheduled to be held" as opposed to "will be held" because as we all know we're in a period where you can take nothing for granted. But at this moment in time, it appears to be full speed ahead for SFPA Expo, and we can tell from our communications with many of the exhibitors that they have been busy as heck in trying to keep up with the tremendous pace of lumber production and the continuing onslaught of planned new projects. If anything, SFPA Expo might allow everyone to catch their breath and enjoy seeing and speaking to each other, and not by way of the dusty computer screen we've all been staring at for months on end.
Speaking of Atlanta, I recently attended a baseball game at the Braves stadium, Truist Park, which is adjacent the sports entertainment venue called The Battery, which entails numerous beverage and dining establishments. It was a combination Father's Day/my son's birthday outing. After the baseball game we went to one of the monster screen bars and watched the Atlanta Hawks win their conference semifinals over Philadelphia. The place was a mad house. The subject of COVID didn't come up during that bedlam. It does make me a little nervous to read about some of these variants popping up, because it doesn't take much in some cities, or countries for that matter, to shut everything down. We don't want to go back to that nightmare again.
We're hoping for just the opposite in Atlanta, and if you haven't read about it, a new development with regard to the SFPA Expo is that Timber Processing is taking a more active role than just exhibiting. We're putting together a couple of things: One is the presentation of our 2021 Person of the Year award to Robert Jordan IV of the renown Jordan lumber family from Mt. Gilead, NC. You probably saw the Person of the Year story we carried on Robert in the January issue. The presentation will be held at 3 p.m. on the first day of the show, Wednesday, August 11. We might even coerce Robert to say a few words. His late father, Bob Jordan, received the same award in 2007.
The next day, Thursday, August 12, Timber Processing is putting on a conference— Productivity & Efficiency—which is sponsored by SFPA. It will touch on three subjects: Continuous Dry Kilns, Project Implementation, and Lumber Recovery and other Mill Enhancements. Elsewhere in this issue you can find more detail on it and read about some of the speakers who have signed on to give presentations. There is a cost to attend the conference but it's not extravagant. You can't spend your entire time just walking the aisles of the Expo, so why not also register for the conference. You're sure to learn something, and it's always a good feeling to take an idea back to the sawmill for possible implementation. And if you have different people who each specialize in one of those three topics just mentioned, bring all of them to Atlanta for the Conference and the Expo and turn the occasion into a reward of sorts.
Frankly, I feel like everybody in our industry deserves a reward for not only fighting through the pandemic, but for being part of an industry that truly led the way.
Corvallis, Ore.-based Lucidyne Technologies, which was purchased in 2020 by Microtec, is now named Microtec Corvallis as Microtec finalizes its branding integration plans. Last year, following its acquisitions of Finscan and Woodeye, Microtec rebranded Finscan as Microtec Espoo and Woodeye as…
U.S. softwood lumbermen are not as bullish about their lumber business situation as they were a year ago, but they're still upbeat and capital expenditure projects are in full force, according to Timber Processing's annual 2022 U.S. Sawmill Operations & Capital Expenditures Survey…
U.S. single-family housing starts in April dipped 7.3% from March to a seasonally adjusted rate of 1.1 million, but multi-family starts (five units or more) shot up 16.8% over March to 612,000, according to the U.S. Census Bureau and U.S. Dept. of Housing and Urban Development monthly new…
The monthly Timber Processing Industry Newsletter reaches over 4,000 mill owners and supervisors.
Timber Processing is delivered 10 times per year to subscribers who represent sawmill ownership, management and supervisory personnel and corporate executives. Subscriptions are FREE to qualified individuals.
Complete the online form so we can direct you to the appropriate Sales Representative.