First CLT Office Opens In DC
Opened in fall 2022, the first mass timber commercial building in the U.S. capital city features more than 108,000 sq. ft. of mass timber. The building is an innovative retrofit at 80 M Street SE in Washington, DC: Termed an overbuild—extra stories atop an existing building—the expansion features three floors, where columns of mass timber are visible from the interior.
The project used 1,300 tons of CLT, with the mass timber addition sized at 108,000 sq. ft. of the overall 286,000 sq. ft. space. The developer of the project is Columbia Property Trust; architect is Hickok Cole. Engineering firm Arup performed the retrofit, and the property opened late September. First tenants are the American Trucking Assn. and BP America. Nordic Structures supplied the glulam beams and columns used in the project, and Katerra supplied the CLT.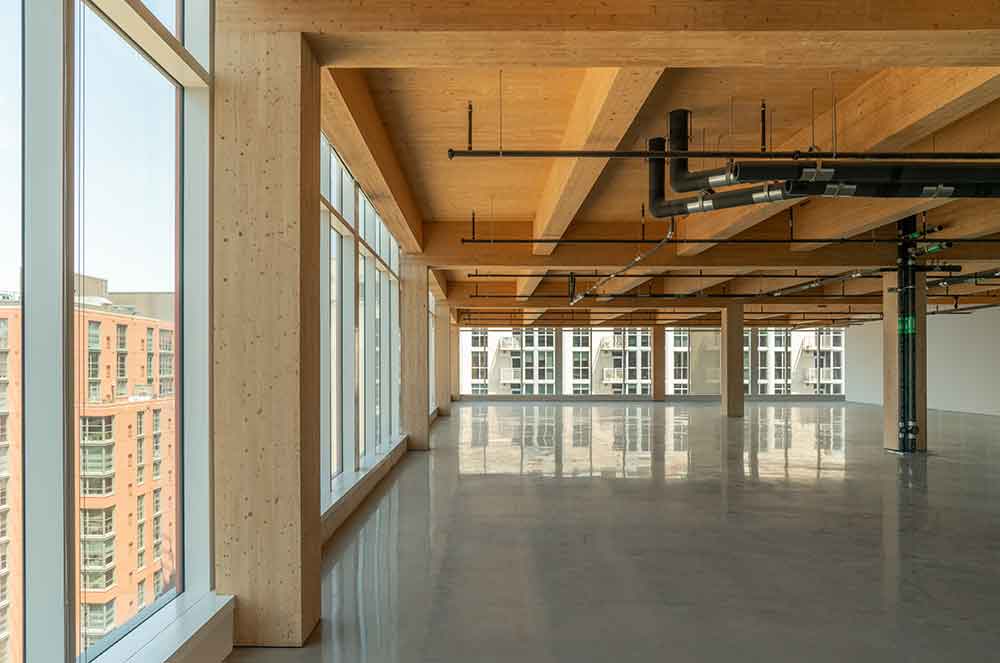 Hampton Lumber & Family Forests is pleased to announce the creation of a Hampton Lumber Scholarship endowment for Tillamook Bay Community College (TBCC). The endowment will provide scholarships for students in TBCC's forestry and manufacturing and industrial technology (MIT) programs…
USNR has announced the order of a complete sawmilling system to the Chilean company Foraction Chile. This highly advanced production line is designed to process radiata pine and will be installed at a greenfield site in the Los Rios region, about 800 km south of Santiago…
KDS Windsor, Lumber Drying Technologies, (KDS) and The New York Blower Co. (NYB) have recently announced they are expanding manufacturing operations in Philadelphia, Miss. This joint venture is one of many investments in growth the past few years…
The monthly Timber Processing Industry Newsletter reaches over 4,000 mill owners and supervisors.
Timber Processing is delivered 10 times per year to subscribers who represent sawmill ownership, management and supervisory personnel and corporate executives. Subscriptions are FREE to qualified individuals.
Complete the online form so we can direct you to the appropriate Sales Representative.