First CLT Office Opens In DC
Opened in fall 2022, the first mass timber commercial building in the U.S. capital city features more than 108,000 sq. ft. of mass timber. The building is an innovative retrofit at 80 M Street SE in Washington, DC: Termed an overbuild—extra stories atop an existing building—the expansion features three floors, where columns of mass timber are visible from the interior.
The project used 1,300 tons of CLT, with the mass timber addition sized at 108,000 sq. ft. of the overall 286,000 sq. ft. space. The developer of the project is Columbia Property Trust; architect is Hickok Cole. Engineering firm Arup performed the retrofit, and the property opened late September. First tenants are the American Trucking Assn. and BP America. Nordic Structures supplied the glulam beams and columns used in the project, and Katerra supplied the CLT.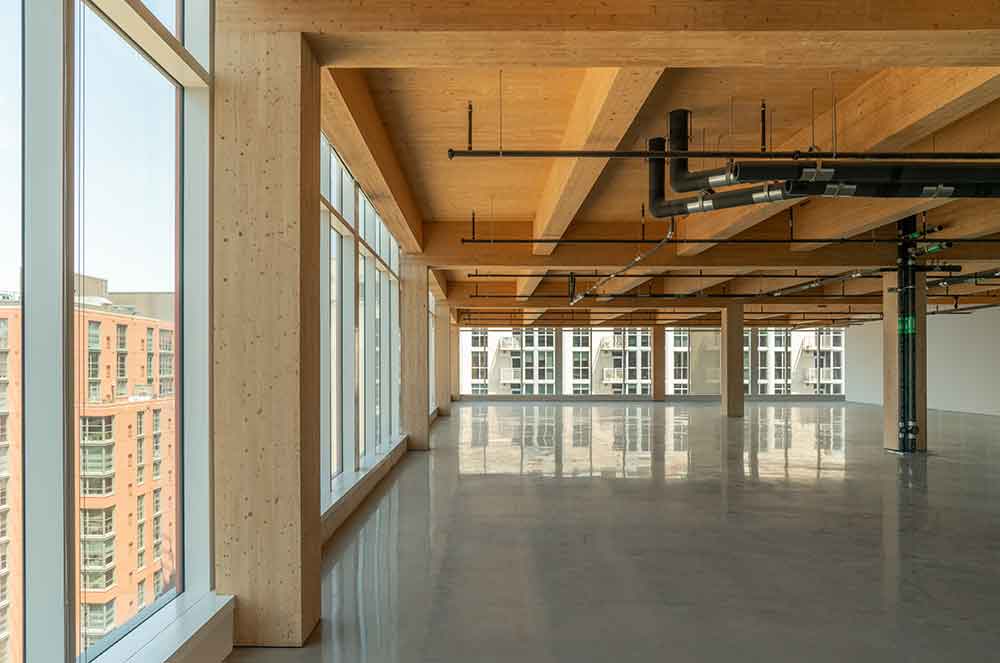 Structurlam Mass Timber Corp., a mass timber manufacturer in North America, has announced it is temporarily suspending operations and reducing staff at its Conway, Ark., plant due to a customer contract cancellation…
Vaagen Fibre Canada (an affiliate of Vaagen Brothers Lumber) announced it is shutting down its Midway, BC sawmill indefinitely, while indicating it is looking for solutions to keep the operation going, and encouraging those impacted throughout the Boundary, West Kootenay, and Okanagan regions to appeal to the Ministry of Forests…
U.S. housing starts for 2022 came in at 1.553 million units, down 3% from 2021, according to the U.S. Census Bureau and U.S. Dept. of Housing and Urban Development monthly new residential construction report. Single-family starts took the biggest hit, down 10.6% to 1.007 million, while multi-family (five units or more) increased 14.5% to 528.9 million…
The monthly Timber Processing Industry Newsletter reaches over 4,000 mill owners and supervisors.
Timber Processing is delivered 10 times per year to subscribers who represent sawmill ownership, management and supervisory personnel and corporate executives. Subscriptions are FREE to qualified individuals.
Complete the online form so we can direct you to the appropriate Sales Representative.