Article by David Abbott, Senior Associate Editor, Timber Processing November 2019
"Gee, ain't it funny how time slips away," Willie Nelson sings in what is probably one of the great American songwriter's less well remembered gems. Willie is getting on up there—86 this year; he released a new song in 2018 with the lyrics: "I Woke Up Still Not Dead Again Today." But even the Red Headed Stranger has a long road ahead before he'll have anything on George Varn, Sr. of Varn Wood Products in Hoboken, Ga. Mr. Varn will turn 99 in December.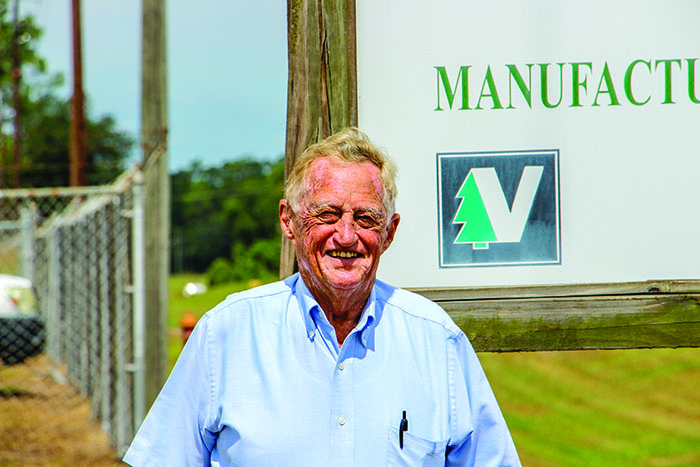 Varn Wood Products was first featured in a Timber Processing article 40 years ago. That June 1979 article focused on the mill's use of a Chip-N-Saw to process small diameter, low-grade pulpwood. Another article on the Varn operation followed 26 years later, in 2005. The news then was that the Chip-N-Saw had now become the large log side while a Cone small log processor handled even smaller stems. Now, 14 years after that, Timber Processing has returned to Varn. The Cone SLP is still working on the small log side, but the Chip-N-Saw from the '79 article has been replaced by a Cone Omega profiling canter. George Varn, Sr. has been on hand for all three articles, just as he was closely involved with the mill's startup 51 years ago.
The word "naval" had a big role in his life. During World War II, Varn, who had graduated in 1942 from Harvard (yes, Harvard), had served in Naval intelligence during World War II. When he came back home in 1945, he joined the family's naval stores business. In '68, he and his cousins, responding to declining domestic turpentine markets, decided to put in a chip mill that quickly evolved into a sawmill. Varn has helped guide that evolution for five decades.
On a personal note, I see a number of parallels. Mr. Varn was born in 1920; my grandfather, Elzie Crace, was born in 1920; and like Mr. Varn, he was a World War II veteran. I was less than a year-old when the first article on Varn came out. The year the second article came out, 2005, I came to work here. When the Varn wood products operation hit its 50th anniversary last year, I hit my 40th birthday.
George Varn was 84 when our editor-in-chief, Rich Donnell, wrote the article in '05. He had been closely involved with Cone Machinery in developing the small log processor for stems of 6.5 in. diameter or less for the 2×4 market. Though he says he hasn't done anything directly in the mill in 10 years, he still takes part in weekly management meetings every Friday, usually via skype from his office in Jacksonville, an hour and a half drive from the mill, and he still visits the mill in person every few weeks; he was there for my visit in September.
George Varn, Jr. says it took a while to convince his dad to stop driving, and I don't doubt it. I was struck by how physically robust he is, and even more impressed by his intellectual vitality. Does George, Sr. know the secret to longevity? "I can't tell you," he admits. "If I knew what it was, I believe I could sell it. I just have approached each day and they have added up. I just kept going and I'm still here."
Mayr-Meinhof Holz, which lost out in September on the bid and acquisition of the bankrupt Klausner Lumber One sawmill in Live Oak, Fla. to Binderholz Group, was the…
The monthly Timber Processing Industry Newsletter reaches over 4,000 mill owners and supervisors.
Timber Processing is delivered 10 times per year to subscribers who represent sawmill ownership, management and supervisory personnel and corporate executives.
Complete the online form so we can direct you to the appropriate Sales Representative.