WWPA Conducts Annual Meeting In Washington
Scenic Skamani Lodge at the Columbia River Gorge hosted the Western Wood Products Assn. annual meeting and also the board meeting of the Softwood Lumber Board during May 24-26.
Lumber producer companies represented included Bennett Lumber Products, Blanca Forest Products, Boise Cascade, Bright Wood, Collins, F.H. Stoltze Land & Lumber, Hampton Lumber, Idaho Forest Group, Interfor, Mendocino Forest Products, Mt. Hood Forest Products, Neiman Enterprises, Ochoco Lumber, PotlatchDeltic, Sierra Pacific Industries, Stimson Lumber, Swanson Group, Thompson River Lumber, Vaagen Bros. Lumber, Western Forest Products and Yakama Forest Products.
Timber Processing magazine (Hatton-Brown Publishers, Inc.), promoting its upcoming Timber Processing & Energy Expo September 28-30 at the Portland Expo Center in Portland, Ore., was one of several companies to exhibit in the WWPA Exchange Show, along with AGS Stainless, BID Group, Biomass Engineering & Equipment, HALCO, Continental Underwriters, HUV International. MiCROTEC, Taylor Machine Works, USNR and Valutec.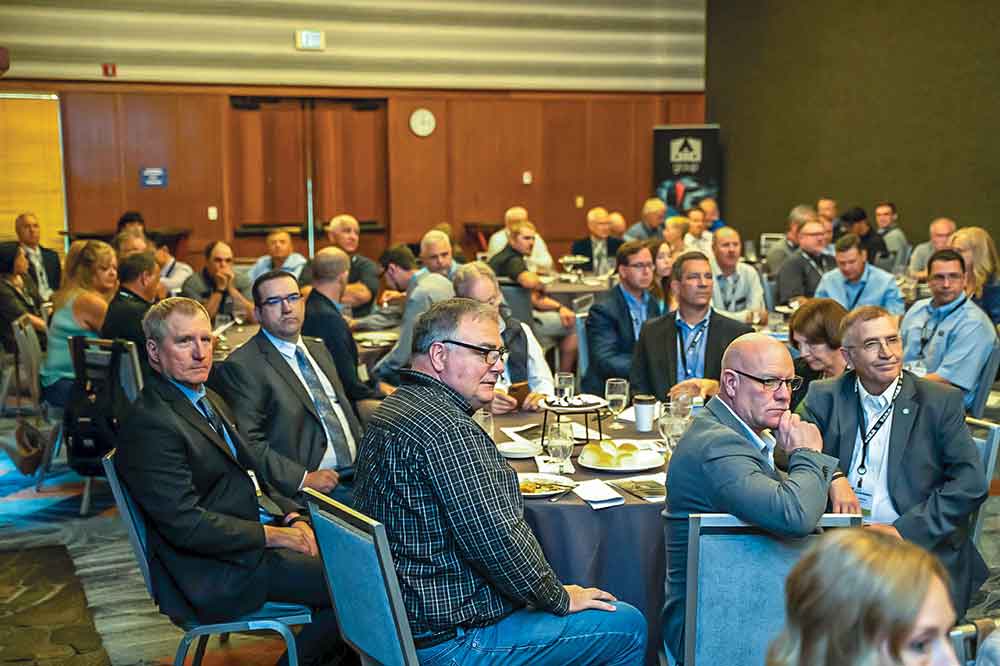 Perhaps the biggest development to come out of the annual meeting was the introduction of "The Working Forest Initiative," a well-funded data-driven campaign targeted at key influencers to drive measurable improvement in the favorability rating of the forest industry and thus positively resonate in wood products markets and the enhancement of the industry.
Adrian Blocker, recently retired as senior vice president of Timberlands and Wood Products at Weyerhaeuser, and well known through the years for his activism in numerous industry promotional groups, is leading the new initiative and addressed its early evolvement.
The initiative has hired Bully Pulpit Interactive, a public relations, message development and measurement firm based in Washington, DC and with several other offices in the U.S. Blocker said survey research conducted by BPI has showed that today the industry's reputation is challenged. In fact a survey of Fortune 1000 business leaders, policymakers and activists revealed that only slightly more than a third "trust" the forest industry and describe the industry as forward-thinking, and only 25% believe the industry does the "right thing."
The data showed the favorability of the forest industry lagging behind construction and agriculture, and only outperforming what is generally considered an extractive, energy intensive and polluting sector—mining.
Blocker said, unlike previous industry public relations campaigns that have been too broad, BPI's research has finely-tuned the number of pivotal business, legislative, regulatory, media and other influencers on the forest industry to—not millions—but 639,000.
"For the first time as an industry we know who they are, how to target them with our messaging and we have research on what will change their minds and positions on our industry and issues," Blocker said.
The initiative is starting out as a five-year campaign with $45 million in funding, including from producer companies such as West Fraser, Canfor, Sierra-Pacific Industries, Idaho Forest Group, Westervelt, Georgia-Pacific and Resolute, and with backing from several industry supporting groups and associations.
Part of the initiative is environmental awareness, to make sure that decision makers understand that harvesting is sustainable and working forests should be embraced as a tool to fight climate change, especially during this crucial period when frameworks, climate goals and policies to reduce carbon emissions are undertaken.
As to measuring the success of the initiative, Blocker said it will be measured quarterly based on familiarity and favorability of the industry, with the goal to double the forest industry's favorability ratings in five years.
The Working Forest Initiative kicks off this fall as a 501c6 legal entity with a board of directors composed of funders who will provide governance and an advisory board of industry's best communicators and government affairs professionals to help guide messaging efforts.
Other speakers during the meeting included Ali Wolf, chief economist with Zonda, and Mark Wishnie, chief sustainability officer and head of landscape capital at BTG Pactual Timberland Investment Group.
The Z-Trak2 family ushers in a new era of 5GigE 3D profile sensors for high-speed, in-line real-time lumber measurement and inspection.Offering 2,000 points per profile, all Z-Trak2 models are factory calibrated and offered with either blue or red eye safe lasers to suit various surface properties and operating environments. All sensors are housed in IP67 enclosures for harsh environments and come bundled with Teledyne's Sherlock 8 —a point-and-click, rapid application development software package…
The monthly Timber Processing Industry Newsletter reaches over 4,000 mill owners and supervisors.
Timber Processing is delivered 10 times per year to subscribers who represent sawmill ownership, management and supervisory personnel and corporate executives. Subscriptions are FREE to qualified individuals.
Complete the online form so we can direct you to the appropriate Sales Representative.