What Is An Encoder Anyway?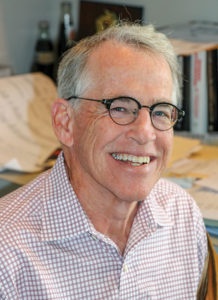 Article by Rich Donnell, Editor-in-Chief, Timber Processing March 2020
We've been having some fun with sawmill terminology lately. We always so when we hire a new editor fresh out of college, who has been a sportswriter, and who is much more familiar with terms like three-point shot than three-dimensional scanning. As I write this, our newest associate editor, all 22 years of him, is en route to a hardwood sawmill in West Virginia. I feel sorry for him. Not because of the 10 hour drive to get there, but after nine months of employment here he was just getting the hang of what goes on in a softwood lumber sawmill, and then I send him to a hardwood sawmill, which in general may have less sophisticated technology than a softwood sawmill, but which has its own language of grades and markets, not to mention multiple species and bigger logs. And I didn't tell him that a lot of the hardwood lumbermen haven't been in too good of a mood lately (China tariffs and all, you know). You try to prepare the boy as best you can – read some old hardwood sawmill stories, do some googling of hardwood sawmills in action.
He's done pretty well with the softwood sawmills he has visited; that is, he hasn't quit yet. One of the mills completed a major upgrade with some new profiling technology. I had told the mill owner, whom we've known forever, that I was sending him a greenhorn and to go easy on him. When I read our boy's transcript of the interview, I was really appreciative of the guys at the mill. They had gone above and beyond and provided our novice some sawmill 101 basics as they went through the mill flow.
Of course I had already loaned to the kid the greatest book on sawmills ever written: Lumber Manufacturing: The Design and Operation of Sawmills and Planer mills, by legendary Northwest consultant Ed Williston. When I handed it to him, I said, yep, somebody actually wrote a book on sawmills. And then I proceeded to give him way too much information on how the book had saved my career.
It really did, back in the mid 1980s, not long after I had moved from the newspaper business to this business, and found myself getting stuck on sawmill words like "encoder." I had attended the sawmill machinery show in Portland, which was hosted by the publishing company, Miller Freeman, which in addition to producing forest industry trade magazine also published technical books, and one of them was this one.
It had been published in 1976, and Williston had revised it a couple of times since. It had chapter titles like: Introduction to Lumber Manufacture, The Log Yard, Merchandising and the Long Log Deck, The Headrig, Principles and Systems for Primary Log Breakdown, Ponies and Resaws, Edgers, Trimming Rough Lumber, Scanners and Computers and right on through the planer mill and filing room, and then it had this absolutely glorious glossary of sawmill terms and appendix of measurements and conversions.
I could understand what the heck was going on in a high-tech sawmill, as long as the book was in reach.
Sure a lot has changed in sawmills since the book's last edition in 1988, but a lot hasn't changed.
Hunt Forest Products and Tolko Industries Ltd. announced they will build a $240 million sawmill in Bienville Parish, near Taylor, La. Construction is expected to start in early 2022, and the new facility will employ 60 when operations begin in the…
The monthly Timber Processing Industry Newsletter reaches over 4,000 mill owners and supervisors.
Timber Processing is delivered 10 times per year to subscribers who represent sawmill ownership, management and supervisory personnel and corporate executives. Subscriptions are FREE to qualified individuals.
Complete the online form so we can direct you to the appropriate Sales Representative.