Vollmer of America Partners With Burton Saw & Supply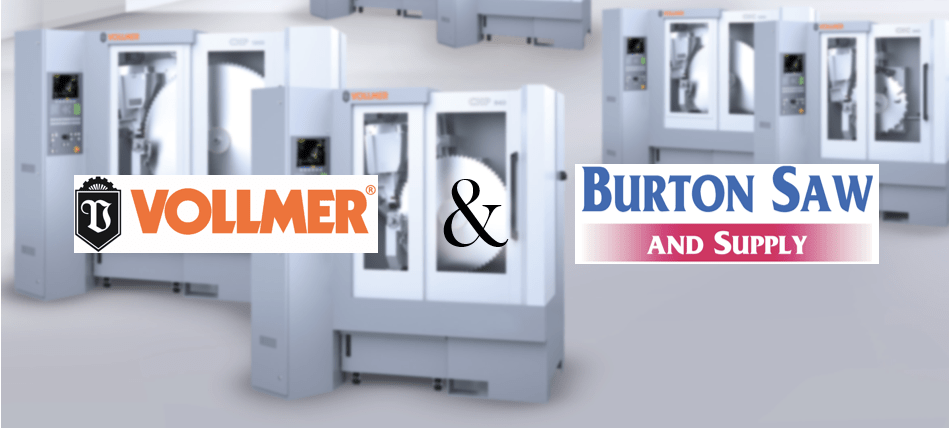 Vollmer of America has just announced a new business partnership with Burton Saw & Supply, along with its affiliates Simonds International, Cut Technologies and BGR Saws: Due to Burton's large presence within the sawmill industry, Vollmer of America has now established a close partnership to respond quickly to the market needs with proven and reliable solutions. While Vollmer grinding and erosion machines as well as spare part requests within the sawmill industry will now be quoted and sold through Burton Saw & Supply, all installations, training, service and warranty work will still be handled by Vollmer of America.
"We believe that the partnership with Burton Saw & Supply will be very beneficial for all parties involved, not only in regards to streamlining communication channels, but most importantly for our customers as well who will now get to have a more frequent contact base and improved support system throughout the U.S. and Canada," Shannon Fox, North American Sales Manager at Vollmer of America, says.
Hampton Lumber has announced that Randy Schillinger will join Hampton Lumber & Family Forests as its new CEO, effective June 26, 2023, taking over for Steve Zika who has served as CEO of Hampton since 2003 and announced his retirement earlier this year. Schillinger has over 25 years of experience in the Pacific Northwest wood products industry. He began his career with…
As leading forklift manufacturer Combilift continues its 25 years in business celebrations with the launch of another new model truck, this time at Ligna, the international timber and woodworking show, held in Hanover. The new Combi-CB70E is a further addition to Combilift's ever growing range of electric models which offers powerful performance, extensive…
Housing starts across the U.S. increased in April 2.2% to 1.4 million according the U.S. Census Bureau and U.S. Department of Housing and Urban Development, New Residential Construction report released May 17. Notably, this is 22.3% lower than April 2022's 1.8 million. Single-family home construction increased 1.6% to its highest level so far in 2023. Starts of apartment…
The monthly Timber Processing Industry Newsletter reaches over 4,000 mill owners and supervisors.
Timber Processing is delivered 10 times per year to subscribers who represent sawmill ownership, management and supervisory personnel and corporate executives. Subscriptions are FREE to qualified individuals.
Complete the online form so we can direct you to the appropriate Sales Representative.