Vollmer of America Partners With Burton Saw & Supply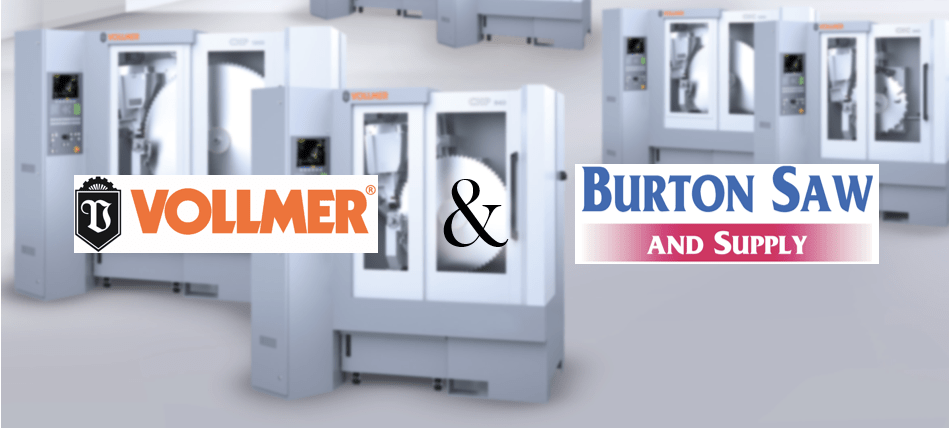 Vollmer of America has just announced a new business partnership with Burton Saw & Supply, along with its affiliates Simonds International, Cut Technologies and BGR Saws: Due to Burton's large presence within the sawmill industry, Vollmer of America has now established a close partnership to respond quickly to the market needs with proven and reliable solutions. While Vollmer grinding and erosion machines as well as spare part requests within the sawmill industry will now be quoted and sold through Burton Saw & Supply, all installations, training, service and warranty work will still be handled by Vollmer of America.
"We believe that the partnership with Burton Saw & Supply will be very beneficial for all parties involved, not only in regards to streamlining communication channels, but most importantly for our customers as well who will now get to have a more frequent contact base and improved support system throughout the U.S. and Canada," Shannon Fox, North American Sales Manager at Vollmer of America, says.
Robert Jordan, IV, president and CEO of the Jordan Companies, is the 2021 Timber Processing Person of the Year, 14 years after his father, Bob Jordan, received the annual award, now in its 33rd year. Truly…
U.S. housing starts, thanks to the single-family market, finished 2020 on a surge, with December housing starts at a seasonally adjusted rate of 1.669 million, a 5.8% increase over November and 5.2% increase compared to December…
Biewer Plans For Second SYP Greenfield Mill: Biewer Lumber is constructing its second greenfield southern yellow pine sawmill in Mississippi, this one in Winona, about 100 miles north of its first one in Newton, and…
The monthly Timber Processing Industry Newsletter reaches over 4,000 mill owners and supervisors.
Timber Processing is delivered 10 times per year to subscribers who represent sawmill ownership, management and supervisory personnel and corporate executives. Subscriptions are FREE to qualified individuals.
Complete the online form so we can direct you to the appropriate Sales Representative.