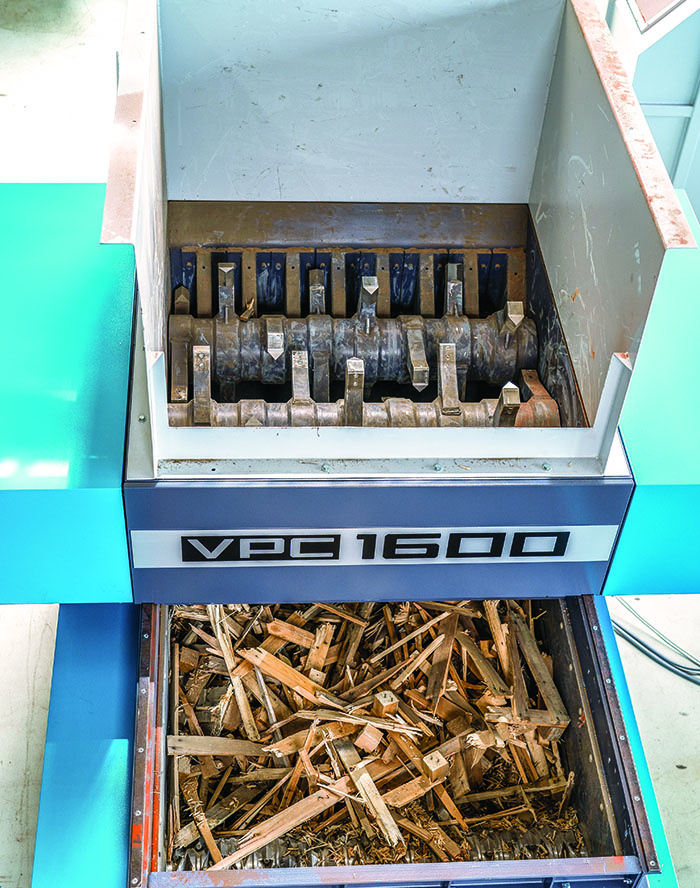 Bulky wood waste such as crates, pallets and cable reels can now be efficiently pre-processed with Vecoplan's VPC Pre-Crusher machine. The VPC is designed to be paired with any Vecoplan shredder to increase output by 50–200%. Outfitted with two rotors that will crush wood within seconds, the VPC eliminates the bottleneck in your grinding operation that large items can cause.
As with many Vecoplan machines, lots of power in a small footprint delivers. The VPC features:
two conventional geared motored drives with frequency converters
two 15 HP drive motors
two independent, reversible rotors, each with 16 crusher arms
two 8 counter breakers
a footprint of 75 in. L x 123 in. W x 32 in. H.
As a specialist in engineered wood production lines, Minda has been a perfect partner for green and brownfield projects for more than 40 years. One of the last brownfield projects was the extension of a glulam line in Poland for Andrewex Construction, the biggest manufacturer of glulam in Poland with more than 30 years of experience…
Terry Brown and the Lumber Quality Institute will again offer two lumber quality-related workshops in Salem, Ore. for the sawmill industry in November 2023. The Lumber Quality and Process Control Workshop will be held November 6-7, and the Lumber Quality Leadership Workshop will be held November 8-9…
In a significant development for the local community, BID Group has collaborated with the Dept. of Labor and Apprenticeship Carolina to launch a groundbreaking apprenticeship program in its Fabrication Shop. The program provides valuable opportunities for aspiring professionals in the manufacturing sector…
The monthly Timber Processing Industry Newsletter reaches over 4,000 mill owners and supervisors.
Timber Processing is delivered 10 times per year to subscribers who represent sawmill ownership, management and supervisory personnel and corporate executives. Subscriptions are FREE to qualified individuals.
Complete the online form so we can direct you to the appropriate Sales Representative.