Polish Glulam, German CLT Projects Pick Minda
As a specialist in engineered wood production lines, Minda has been a perfect partner for green and brownfield projects for more than 40 years. One of the last brownfield projects was the extension of a glulam line in Poland for Andrewex Construction, the biggest manufacturer of glulam in Poland with more than 30 years of experience.
The goal was to replace an old flat glulam press for standard beams with a fully automatic glulam press for batch size 1 production. The Minda TimberPress T120 was the solution for this project, as it is fed and discharged from the side and needs less space. The existing glue application line was modified to stack beams for the existing 40 m long curved glulam press and for the new Minda press.
The press package in the T120 at Andrewex can be up to 44.6 ft. long, 6.6 ft. high and 11.8 in. wide. The Minda TimberPress T120 was already built for beams up to 23.6 in. in width. The top pressure is applied by a hydraulic system with up to 116 PSI and monitored during the complete press cycle.
The decision to go with Minda was made by Andrewex in September 2022. Installation began in June 2023, and production started in July 2023.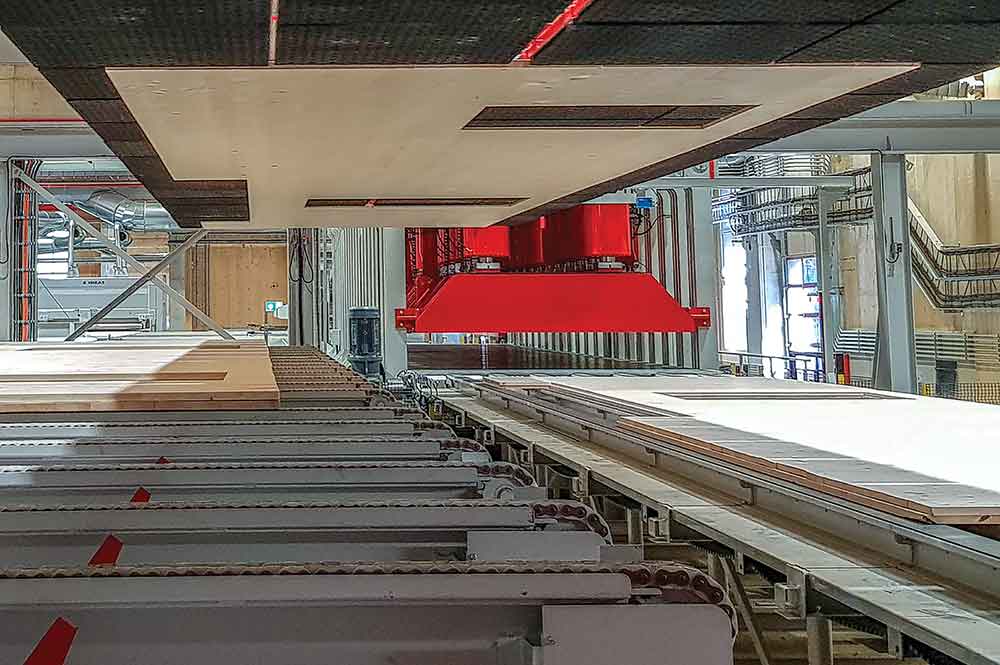 The next big greenfield project will be CLTech in Germany. Founded in 2018 with the target to shift the value chain in timber construction as far as possible to prefabrication, CLTech is an integrated service company that offers its customers—timber constructors and project developers—complete solutions in timber construction with in-house architects and structural engineers.
Minda will deliver, as general supplier, a fully automatic high-end CLT production line.
Particular attention was paid during the planning phase to resource efficiency and avoidance of waste. Therefore, CLTech will receive the newly developed Minda edge glue press for single-layer panels to produce layers directly with the required door and window cutouts. Thus, raw material is saved, and there is no need for the fingerjointer to process material which is not needed.
With the TimberPress X136 "pro," the single layers are pressed to CLT panels which are up to 54 ft. long and 11.5 ft. wide. The "pro" version scans the panels during the infeed so that pressure is only applied where needed. Design and manufacturing have already begun, and installation will start the beginning of 2024.
Every year, millions of workers get injured on the job, and a significant number of reported occupational injuries are hand related. But some of the best companies have managed to reduce hand injuries by 50, even 90 percent. How?
The monthly Timber Processing Industry Newsletter reaches over 4,000 mill owners and supervisors.
Timber Processing is delivered 10 times per year to subscribers who represent sawmill ownership, management and supervisory personnel and corporate executives. Subscriptions are FREE to qualified individuals.
Complete the online form so we can direct you to the appropriate Sales Representative.