Mellott Manufacturing Log Flare Butt Reducer
By customer request Mellott Manufacturing Co., Inc. is now offering the model 70E log flare butt reducer—designed and built with the same rugged quality as the LMR debarkers and all the Mellott product lines. Adding a log flare butt reducer to a mill infeed system will vastly reduce log handling problems and improve productivity, according to the company.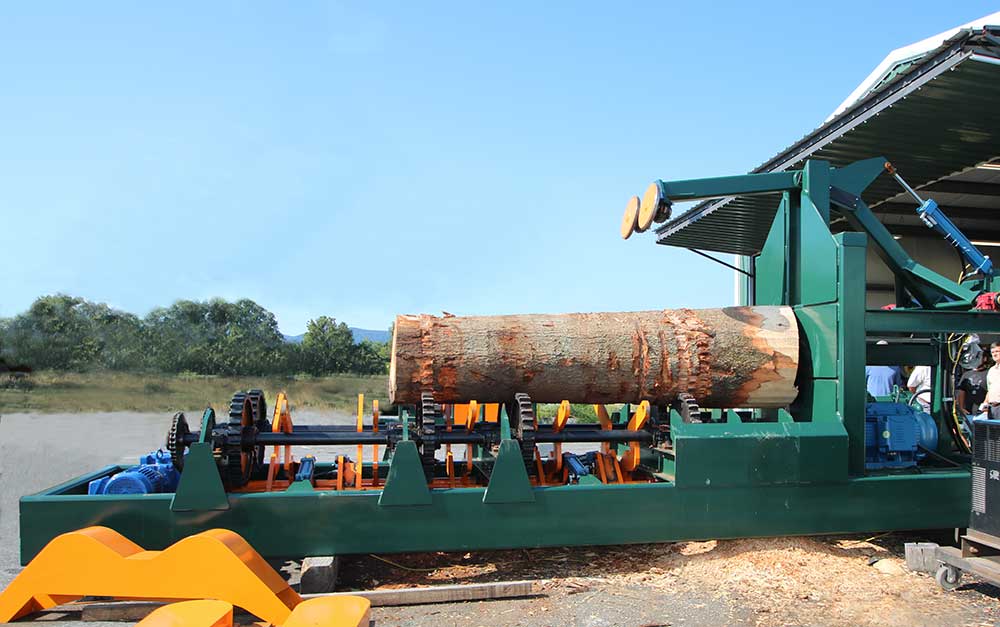 The Mellott log butt flare reducer standard unit will handle 12 in. to 48 in. diameter logs with a maximum flare diameter of 60 in. and log lengths of 8 ft. up to 17 ft. The Mellott cutterhead design has a 14 in. diameter with 28 in. wide sectional steel using 48 reversible teeth and a 3 15/16 in. shaft. A 100 HP, 1200 RPM, electric motor direct-coupled to the drive shaft, drives the cutterhead. The overhead hold down wheels can be operated with hydraulic or pneumatic cylinders. As featured on the Mellott LMR debarkers, the log butt flare reducer also has solid cast steel alloy bull-wheels with Browning HS1 hubs and bushings. The bull-wheel shafts are 3 7/16 in. diameter with split urethane lined pillow block bearings. The bull-wheels are driven with a 10 HP Sumitomo helical bevel reducer. The machine has an automatic control system with the option of a wireless remote control.
The log butt flare reducer can be used as a standalone machine or supplied with infeed decks or log trough conveyors from Mellott.
Visit mellottmfg.com.
The Z-Trak2 family ushers in a new era of 5GigE 3D profile sensors for high-speed, in-line real-time lumber measurement and inspection.Offering 2,000 points per profile, all Z-Trak2 models are factory calibrated and offered with either blue or red eye safe lasers to suit various surface properties and operating environments. All sensors are housed in IP67 enclosures for harsh environments and come bundled with Teledyne's Sherlock 8 —a point-and-click, rapid application development software package…
Looks like construction of the new Canfor $160 million southern yellow pine sawmill in DeRidder, La. is in motion, according to these photos taken by Senior Editor Jessica Johnson as she was passing through the area in early June on an assignment trip…
Evergreen Engineering co-CEO Justin Price will serve as president of the Forest Products Society for the 2022-23 term. Price takes over from Terry Liles, Director of Raw Materials for Huber Engineered Woods…
The monthly Timber Processing Industry Newsletter reaches over 4,000 mill owners and supervisors.
Timber Processing is delivered 10 times per year to subscribers who represent sawmill ownership, management and supervisory personnel and corporate executives. Subscriptions are FREE to qualified individuals.
Complete the online form so we can direct you to the appropriate Sales Representative.