Greentree Upgrades Primary Breakdown
Cleereman Industries/Cleereman Controls in cooperation with RTM Industrial Maintenance LLC recently carried out an extensive project at Greentree Forest Products, owned by Greg Wells, in Wallingford, Ky.
The RTM crew removed the old carriage line that Greentree had run for 27 years, an LP-42 Cleereman carriage, and replaced it with a new one. Wells decided that as long as he was replacing the carriage with a Cleereman LP-48 Extreme Duty carriage, he would also replace his scanning system with a new Cleereman Controls 3D scanning system and Cleereman Controls operator start/stop dispatch console with everything mounted in a new Cleereman sawyer booth. Wells also decided to replace his older, inefficient shotgun carriage drive with a new energy-efficient Cleereman 200 HP Hydrostatic carriage drive. A new Cleereman 42 in. bar log turner was also installed.
RTM Industrial Maintenance took out all of the old equipment and replaced it with new equipment in a little over a week's time. Cleereman Controls engineers along with hydraulic engineer Jonny Cleereman of Cleereman Industries were on site for startup and training of the sawyer and mill maintenance crew. After a few days of sawyer training and final testing, the mill was ready to start running production.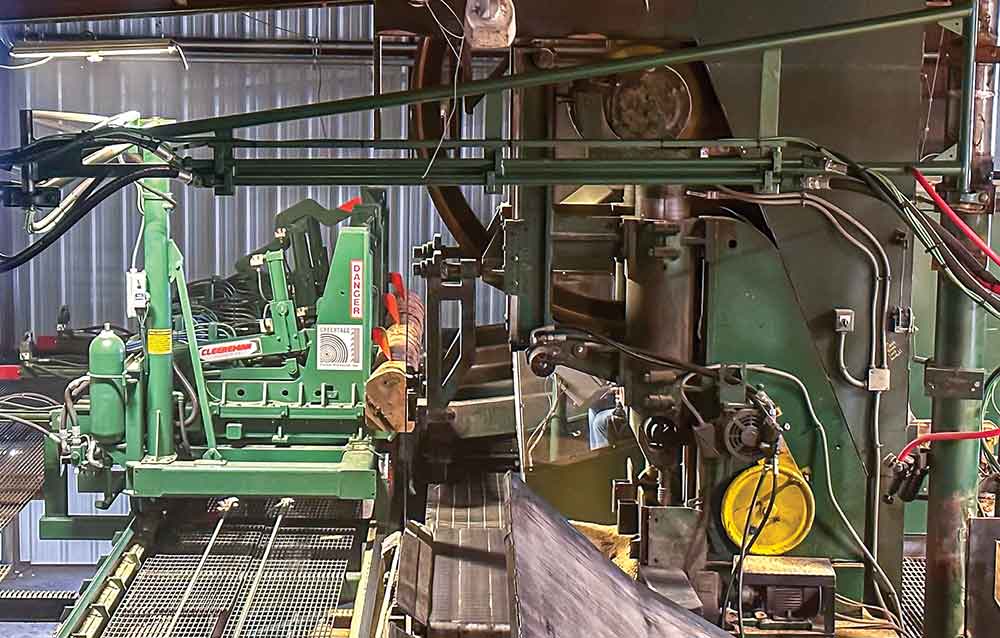 Cleereman carriage upgrade at Greentree Forest Products.
Also installed were a Cleereman Modular Track-Frame with 80 lb. rail and a Cleereman cable tensioner. This project from start to finish took less than two weeks.
WWPA is now seeking nominations for its 2024 Master Lumberman honors, to be presented at the WWPA Annual Meeting, April 15, 2024. Master Lumberman is the industry's highest career achievement recognition for lumber manufacturing and quality control employees working in Western sawmills…
The monthly Timber Processing Industry Newsletter reaches over 4,000 mill owners and supervisors.
Timber Processing is delivered 10 times per year to subscribers who represent sawmill ownership, management and supervisory personnel and corporate executives. Subscriptions are FREE to qualified individuals.
Complete the online form so we can direct you to the appropriate Sales Representative.