Dare We Take One Last Look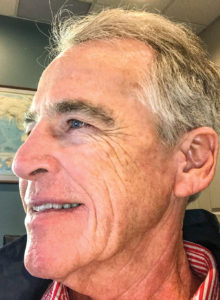 Article by Rich Donnell, Editor-in-Chief, Timber Processing April 2021
As I write this, on March 23, 2021, I am compelled to reflect on what was going on one year ago in the U.S. By now, COVID-19 has reared its lethal head in a long-term care facility in King County in the state of Washington and it is showing up elsewhere.
The National Basketball Assn. halts its season (I am actually at the game in Atlanta when they make that announcement). The NCAA cancels its post-season basketball tournament. Baseball cancels its spring training. Florida cancels spring break. We are being told how to gather at home, at work, and not travel anywhere, especially by flight and most certainly not out of the country. We are in a global pandemic. Forget about going out to eat and please tread carefully through the grocery store. Hand-washing with warm water and soap, as simple as it sounds, becomes our leading defense, and wearing of masks creeps into our daily existence. Instead of watching the scoreboard for points and runs, we monitor it for number of cases and number of deaths.
Joe Biden, after falling behind in the Democratic presidential primaries in February, wins most of the states in March and becomes his party's frontrunner. Biden suddenly leads Trump in most national polls.
Trump begins pouring billions of dollars into struggling American homes, into American businesses to keep their workers on the payroll and into COVID-19 treatment and vaccination research. People beg to know how long it will take to come up with a vaccine. The standard answer is 18 months if everything goes absolutely perfect, but not forgetting that our previous vaccine record is four years.
Our building products industry shuts down and then essentially on site and remotely off site goes back to work. The home building business rebounds and lumber prices skyrocket. Local restaurants aren't as fortunate.
Meanwhile there's chaos in the streets. Black Lives Matter protests sprout up everywhere. A movement called Antifa takes out Starbucks in Seattle and Portland.
With one eye on COVID-19 and the other eye on the presidential race, Trump never gains the upper hand on Biden. Some people, including Trump, think the election is stolen, but that argument never gains the upper hand either. A month after the election, the first vaccine emerges for distribution in the U.S. Biden is sworn in, followed by more payroll protection and family stimulus funding.
Most of us know somebody who has suffered severely with the virus, perhaps even died. Vaccination sites are popping up everywhere. Most people in my circle of friends, including myself and my wife, have had the two shots. It brings a great feeling of relief but also melancholy over those who didn't make it to the shots.
A pathologist tells me, explaining the swiftness of the development of several effective vaccines, that the virus (in terms of medicinal research) was an easy target when confronted by a large number of laboratories working at the same time to find different approaches to induce the immune reaction against the virus.
So here we are, one year later, approximately 30 million cases in the U.S. and 550,000 deaths, which is getting close to the number of lives lost in the Civil War. The dreadful numbers aren't rising as quickly. Sporting events are back and are allowing some attendance. We're not out of the woods yet, but is that a clearing up ahead?
Every year, millions of workers get injured on the job, and a significant number of reported occupational injuries are hand related. But some of the best companies have managed to reduce hand injuries by 50, even 90 percent. How?
The monthly Timber Processing Industry Newsletter reaches over 4,000 mill owners and supervisors.
Timber Processing is delivered 10 times per year to subscribers who represent sawmill ownership, management and supervisory personnel and corporate executives. Subscriptions are FREE to qualified individuals.
Complete the online form so we can direct you to the appropriate Sales Representative.