Con-Vey Promotes Joe Buck To Product Manager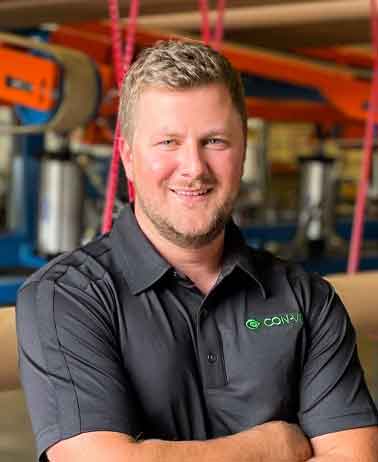 Con-Vey has announced the promotion of Joe Buck from Sales Engineer to Product Manager, having been with the company for nearly four years.
In his new role, Buck will lead the strategy development and execution of several products at Con-Vey, including particle board, MDF, and lumber, and will be working closely with the engineering, sales, and marketing teams. Buck's extensive experience in both sales and engineering makes him especially qualified to drive the growth and success of these product lines for Con-Vey.
Dave Larecy, CEO of Con-Vey, comments, "Joe has been a valuable member of our team these last few years, and we're excited to see him take on this new role. His expertise and dedication to our customers make him the perfect fit for Product Manager, and we're confident he will excel in this position."
Jeremy Goebel, Vice President at Con-Vey, also shared his excitement about Buck's promotion: "Joe is an extremely dedicated professional who has been an instrumental part of our sales team, and I'm thrilled to see him transition to Product Manager. His deep understanding of our customers' needs along with his technical expertise will be invaluable in driving our product strategy forward."
The outpouring of support for Vaagen Fibre Canada's Midway, BC sawmill, upon the early January Vaagen family announcement of the mill's impending closure, was substantial, but apparently hasn't changed the disappointing outcome, at least for now. The Vaagen family, whose Vaagen Brothers Lumber headquarters and sawmill is in Colville, Wash., announced on…
Mercer International Inc. reported it has signed its first major mass timber project contract with a large consumer products retailer. The project, which is composed of cross-laminated timber panels, glue-laminated beams and connector elements, is expected to utilize four months of capacity at Mercer's Spokane, Wash. facility on a one-shift basis over the course of 2023…
U.S. housing starts brushed off a sluggish January and reached a seasonally adjusted rate of 1.45 million in February, up 9.8% over January. Single-family starts were 830,000, a percent above January, while multi-family (five units or more) were at 608,000, up a whopping 24% over January. The uptick in February broke a four-consecutive monthly decline for the combined starts…
The monthly Timber Processing Industry Newsletter reaches over 4,000 mill owners and supervisors.
Timber Processing is delivered 10 times per year to subscribers who represent sawmill ownership, management and supervisory personnel and corporate executives. Subscriptions are FREE to qualified individuals.
Complete the online form so we can direct you to the appropriate Sales Representative.