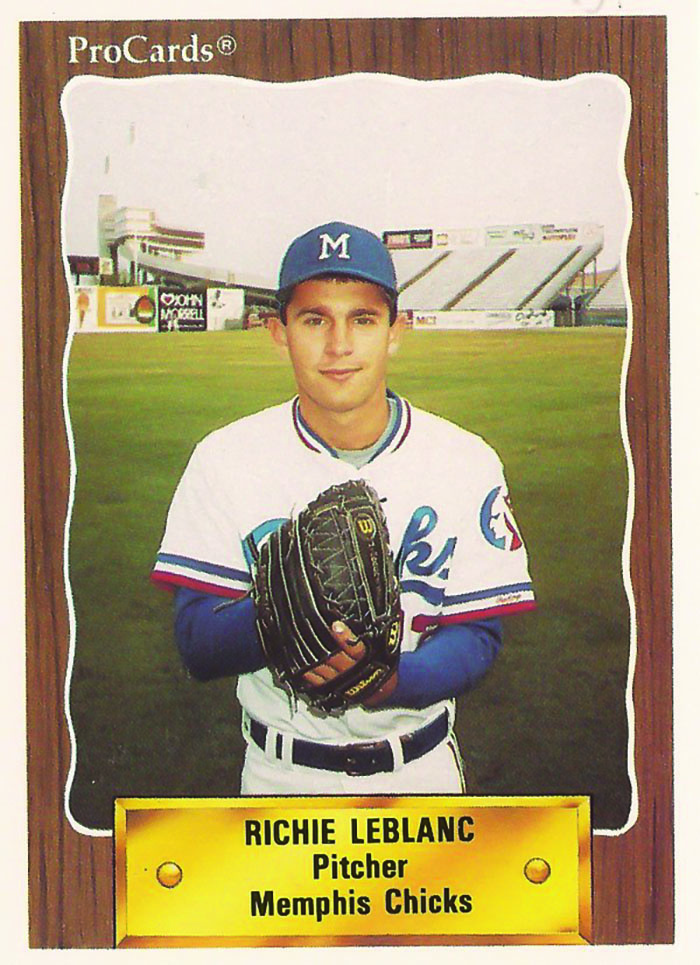 The parallels between sports and success are strong; the life lessons kids learn while playing on teams is invaluable. Teaching children you finish what you start, for example, is incredibly important. Also why one year I, who was perhaps at age eight the epitome of a person who "runs like a girl," played soccer while my heart was in a ballet studio. But when you sign up, you become part of a team and the team learns to count on you. Sports as a child dovetail into sports as a teenager, when the team doesn't just count on you, but teaches you how to react in pressure situations and how to rise to the occasion.
But for one little boy in Louisiana, rising to the occasion on the ballfield was where he thrived. Hunt Forest Products President Richie LeBlanc didn't start fielding baseballs when he was fresh out of diapers. He didn't even play t-ball. Instead, he rode horses and fished. He says the first time he played baseball he wore white blue jeans and it just came natural. "I wanted to play football; I loved to hit people. But once I started playing baseball I knew I loved it, too," LeBlanc told me one day over lunch.
For the LeBlanc family, Richie's talents in baseball were quickly evident and his dad used to make him and his brothers practice the ready position in the living room: "He would say, 'Ready position! Now hold it.' I always had the best ready position of anyone because of that."
LeBlanc became a standout pitcher while playing high school ball in Lafayette, La. that would garner the attention of college and minor league scouts alike. The 5' 9", 170 lb. right-handed pitcher was known to let the defense take care of things, while he remained steady. "I didn't start throwing curve balls until high school. The muscles aren't developed yet. You have to build arm strength. Long toss is the only way. I didn't lift weights, it was all just conditioning and I never ever had arm problems."

LeBlanc would ultimately pitch for Louisiana Tech University in Ruston where he'd face future MLB stars such as Mark Lemke and Albert (Joey) Belle.
The most memorable game in LeBlanc's career was when he pitched 10 innings and beat LSU 5-4 in 1987 before a packed house in Ruston. The game has gone down in La Tech baseball lore.

With Richie LeBlanc as their star pitcher, La Tech flirted with making the College World Series in 1986 and 1987, but after winning some games ultimately were knocked out in the regionals both years.
The Kansas City Royals drafted LeBlanc in the 10th round of the 1987 draft. Several teammates were drafted as well, including Charlie Montoyo, who was La Tech's top hitter and had success as a player in the Bigs—and is the current manager of the Toronto Blue Jays.
LeBlanc has a stellar memory and told me of specific pitches he threw during specific games. "I can tell you pitch sequences to different hitters. It drives my wife crazy because I don't forget the details."
LeBlanc compiled an impressive record while pitching as a starter for three seasons in the minor leagues. He was 8-0 in the Florida State League A level, and was 12-10 for the Royals' AA team in Memphis.
But LeBlanc decided to retire. He says he gave himself five years to make it to the majors, and when his five were up, he told Kansas City he wasn't going to Spring Training. He says he was ready to settle down, and enjoy life with his wife and start a family.
That decision would start the next phase of his life, first with an insurance agency in Louisiana and then with Weyerhaeuser. After 16 years with Weyerhaeuser all over the country, LeBlanc and his family came home to Louisiana and he became President of Hunt Forest Products in 2016.

LeBlanc and his family once again live in Ruston after a few detours first with ball and then with his career in forest products. But every now and then someone will bring up the home game against LSU. "I'll introduce myself to someone and they will look at me and say, 'I was at a baseball game and there was a guy pitching named Richie LeBlanc.' I'll have to tell them 'oh yea that was me.' And they always ask 'Really?'"

The Louisiana team just won the Little League World Series—who knows maybe there is a future Richie LeBlanc on the team.