How Can You Make Downstream Production Easier?
Sponsored Content Provided By Con-Vey
SPONSORED CONTENT PROVIDED BY CON-VEY.
How Can You Make Downstream Production Easier?
That's simple—partner with Con-Vey!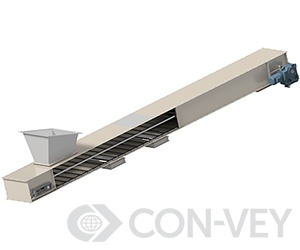 Con-Vey utilizes a variety of conveyors in order to achieve optimum efficiency in up-front lumber manufacturing for each individual process. Our drag chain conveyors are best suited for front-end log processing and waste due to the box chain's ability to withstand weather and handle repeated abuse from heavy logs and bark chunks. Drag chain conveyors can be designed with as little as one lane of chain or as many as required for your operation. We can also give you the flexibility on the width of the conveyor because we collaborate with you as a team to optimize your valuable floor space.
Another conveyor option we provide at Con-Vey for your production process is en-masse—as seen in the 3D model image. En-masse conveyors are better suited for chipped or fine-sized materials—like wood chips and sawdust—due to its enclosed system and the ability to have multiple discharge points on the conveyor. When you need to discharge at higher elevations in a short distance, en-masse conveyors are your answer. Since these conveyors use a paddle that is designed to be the same height as the largest pile height, we can reach near-vertical angles. These angles would otherwise be impossible to hit with a cleated belt because the material would start rolling back and cause unwanted plug ups. En-Masse conveyors also have the flexibility to be manufactured from a variety of materials ranging from A36 Steel Plate for non-abrasive materials to 316 Stainless.
With 75 years of experience in the manufacturing industry combined with the support from dozens of our skilled in-house engineers, machinists, and fabricators, Con-Vey has the knowledge and means to provide quality, dependable solutions for your bulk handling needs.
Contact our Product Manager, Camren May, at [email protected] or call +1 541-672-5506 to get started on your innovative solution in bulk handling!
Visit con-vey.com.
U.S. housing starts experienced a second straight month of decline in February with a seasonally adjusted annual rate of…
The monthly Timber Processing Industry Newsletter reaches over 4,000 mill owners and supervisors.
Timber Processing is delivered 10 times per year to subscribers who represent sawmill ownership, management and supervisory personnel and corporate executives. Subscriptions are FREE to qualified individuals.
Complete the online form so we can direct you to the appropriate Sales Representative.