July/August 2019
COVER STORY – New Planer Mill Boosts SDS Lumber – 
Located in the heart of the beautiful Columbia River Gorge, SDS Lumber is a fully integrated forest products company involved in all facets of the industry, from seedlings to final products.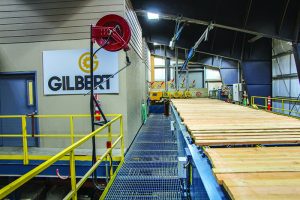 With a couple of years under its belt, the SDS Lumber planer mill has made all the difference in recovery, grade and production.
"We had known we were going to have to upgrade there," says Operations Manager Jon Cole. "We had already spent some time deciding whether to go piece-by-piece or turnkey, and we ultimately decided to build new."
BID Group and Comact were able to make the process go even quicker. At one point even fabricating some equipment on site at SDS' extensive and state-of-the-art fab shop to move the project along.
SDS and the BID Group signed a contract in October 2015, the first board ran July 4, 2016, and full operation commenced a week later.
Article by Dan Shell, Senior Editor, Timber Processing